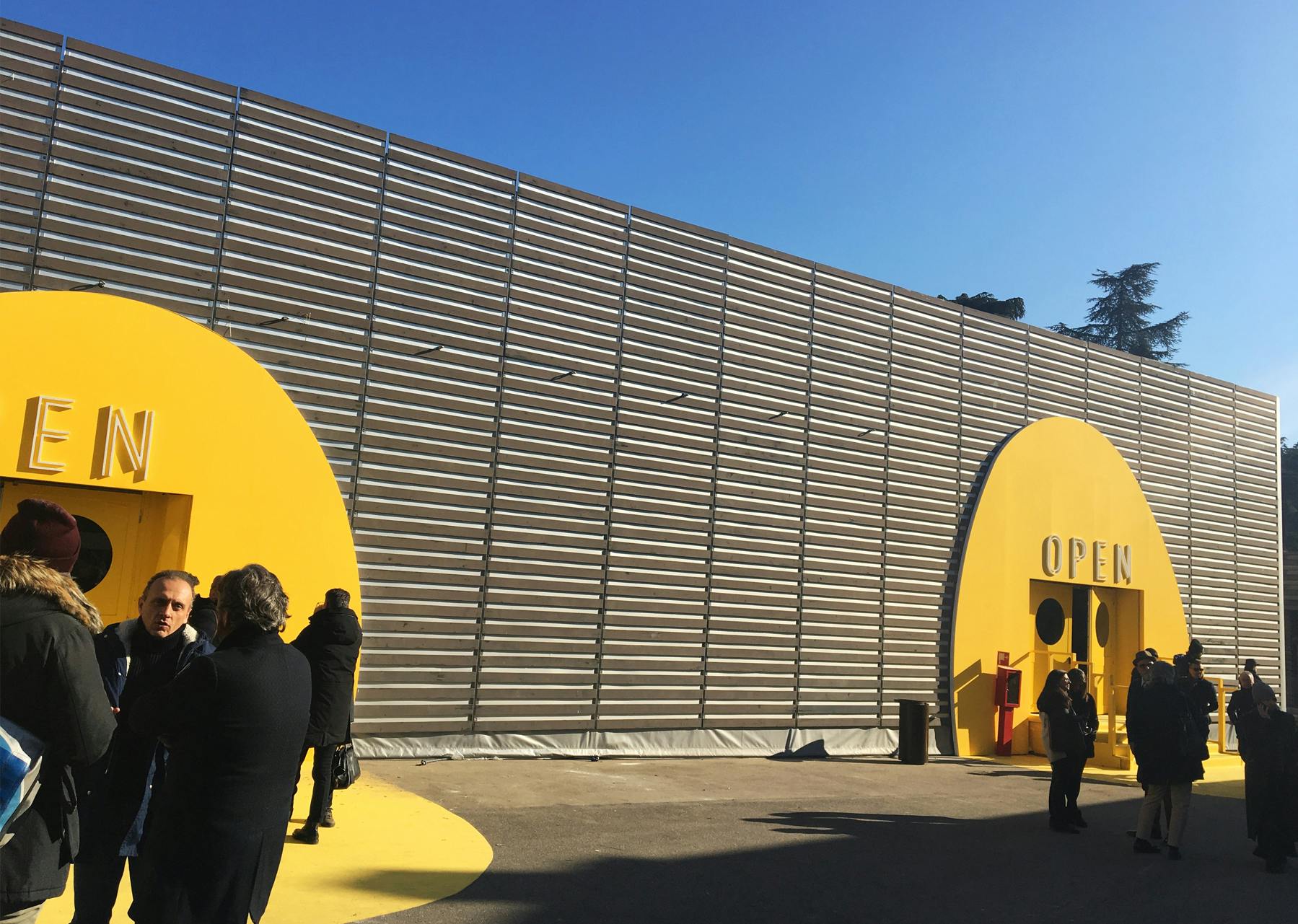 Nosakhari @Pitti Uomo 2017
"Seeing people with such varying personal styles own a corridor as if it were a runway gave me a confidence in my own look and an easy ability to celebrate my own difference."
Hours before dawn on Monday, I boarded the Stansted Express for my flight to Bologna, Italy. Catching the train to Florence after a luxury RyanAir commute, I was looking forward to my first foray into the fashion world – but I was definitely looking forward to caffeine more. The Fortezza da Basso is a maze of 16th-century fortifications, 14th century city walls and modern internal structures, and by the time I finally joined the team in the basement of the Padiglione Centrale I'd seen more of it than I'd meant to.
Oliviero Baldini's rows of mops and kitchen gloves hadn't started dancing to cheesy pop songs yet, so the installation didn't make much sense to me. Admittedly, it didn't make much more sense to me on Tuesday, when they were moving to the music of George Michael. Each Pitti is themed, and for Pitti Uomo 2017 the theme was #PittiDanceOff – I guessed the installation was a tongue-in-cheek reference to the unglamorous potential of dance as a spontaneous expressive movement that can happen when you're washing the dishes or mopping the floor as well as at a party or a club.
We were in good company in the MAKE section of the fair, with Sastreria91 showcasing Spanish tailoring, H-katsukawa from Tokyo featuring raw leather shoes and E-A-M (Essential Articles in the Making) displaying their latest collection of stylish hats, wallets and satchels. After meeting our neighbours and setting up the stand we headed to the flat we were staying in – we could see the Duomo from the balcony.
The buzz built gradually throughout Tuesday, and the excitement of so many talented creatives in one place was palpable. Retailers and designers wandered through, many keen to hear about Nosakhari's vision, and I realised that Pitti is as much about telling your story as showcasing your product. After a long day and a brilliant meal at a local Florentine restaurant, the team took a stroll in the freezing night air to the most city's most famous building – the Duomo. Almost a thousand years old, the elaborate Gothic stonework was a humbling reminder of the skill and dedication of craftsmen before the advent of machine technology.
On Wednesday the fair was busier, and I saw much more of it. Tommy Hilfiger's Pitti debut was a showstopper, with huge screens playing clips of models and subways, lighting up the stone dome. Just as impressive was the MINI Fluid curation of pieces by 6 up-and-coming designers with non-gendered looks. The best of these were David Catalán's designs – an outrageous jacket and trouser set with silver and pink detail, a textured blue and burgundy coat with a low neckline and a series of loose shirts. The other designers challenged the confines of traditionally gendered clothing to a lesser extent, although their work on display was certainly experimental in other ways.
"My Factory" was by far the most exciting part of Pitti. New and up-and-coming brands (including Hype, clinging to its subculture roots) displaying extraordinary artistic vision, from Wize&Ope's trainers with light-up phrases on the heel to StreamTrail's waterproof backpacks. Many were at Pitti for the first time, and some were debuting their very first collections – it was inspiring to see so many creatives celebrating their difference, not only showing off their products but exchanging business cards and engaging with one another as people who appreciated one others' talents.
It was similarly inspiring to see the diversity of fashion tastes around Pitti. The fashion world is notorious for its self-obsessed cultivation of trends, but the best styles are Pitti were all individual – classic cut suits and brogues, faux-fur mantles and stiletto heels, hoodies and cream chinos – and tended to mash-up the best of luxury brands with lesser-known names. Pitti Uomo is a tradeshow first and foremost, but it's no wonder that it's become a byword for taste-makers and the savviest fashionistas.
The strangest part of my trip was the fact that while on Monday I smiled slightly at the struts and poses on the stairwells, in the stalls and by Baldini's installation, by Wednesday I had unconsciously joined the crowd. This wasn't down to any desire to conform, however – seeing people with such varying personal styles own a corridor as if it were a runway gave me a confidence in my own look and an easy ability to celebrate my own difference alongside these Instagram celebrities. Running frantically to the airport to catch my flight back to London, I was still smiling – partly with pride in the Nosakhari team, and partly with a newfound attitude, a different sort of confidence in myself.