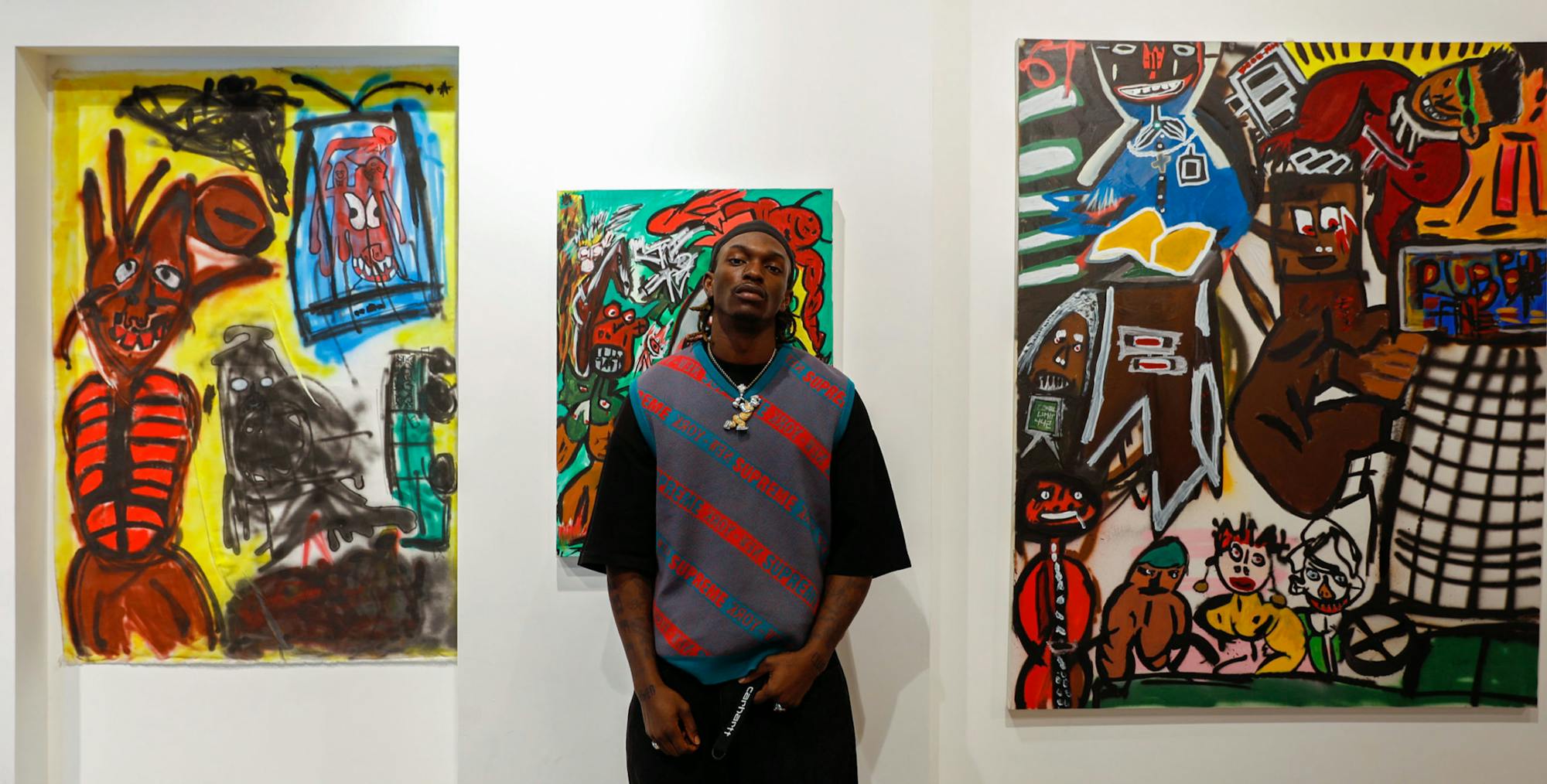 Journey from Rapper to Contemporary Artist with Kida Kudz
The 27-year-old's Fine Rubbish art exhibition debuted last month hosted by Nosakhari. Celebrate sat down with Kida to discuss his creative journey.
Making art is the biggest thing in rapper, performer and all-around renaissance man Kida Kudz' life right now. "Some people have been following the old vibe I was trying to create… I can't explain it, it just feels great," says Kida, whose real name is Olukayode Odesanya and who goes by nom d'auteur Top Member.
The 27-year-old's Fine Rubbish art exhibition debuted last month hosted by Nosakhari. The four-day SOAB festival of vibes and art appreciation unfolded in London's upbeat Shoreditch borough March 25 to 28.
Much like the top "Afro Jiggy" songs he's known for — "Never Saw Us" and "Makaveli" — the renaissance man's abstract paintings depict the artist's journey from childhood to today, drawing on both the joy and the angst that spark contemporary art and illustrate the Nigerian diaspora.
His Yoruba tribe roots, for example, inspired one of his prime works "Masquerade" is inspired by the vibrant cultural fabric and colourful costumery and dance of his tribe's villages. Another one, a self portrait alongside a boxer figure punching him in the face, representing Kida's own trials and tribulations and the many times he has had to fight in life. "It could be anything… could be defined by school or day to day trials and never running away."
"I started working with canvas pads, sketching every day. Getting really comfortable and designing my characters," the performer, who also studied music production at Newham College, the member of the Yoruba tribe, is an anomaly in a family of lawyers and doctors —though nobody ever hindered his self expression. Starting out as a TV personality in Nigeria at the age of 7, he rose to fame when he won Nigeria's Peak Talent Hunt show in 2010. He credits his success largely to his family who allowed him to draw on the walls and floors of their home in IB city Nigeria. In response to critical relatives remarks about the art naive graffiti, his father defended his craft as fine rubbish.
Comparing his trajectory to that of 90s-era graffiti artist Fred Brathwaite Fat Freddi, a contemporary of Jean-Michel Basquiat and member of the pre-turn-of-the century New York culture club zeitgeist that included Julian Schnabel and Andy Warhol. Like Kida, Freddi too had a lot of jobs: he was a rapper, an internationally exhibited painter, a video and TV-commercial director, a screenwriter, a film scorer, an actor, a lecturer, and a television personality as the host of one of MTV's more popular Saturday-night rap-music shows, "Yo! MTV Raps."
Celebrate sat down with Kida to discuss his creative journey.
Tell us about the early years? How did you get into music and art?
I started dancing when I was about 5, and I had a couple dance groups that I was in. I used to go to church and I was the only boy from my mum's side and the last born, so I was spoiled.
I was on TV from the age of 7, and I've never had a break from entertainment or art. I never grew up like a normal kid and all my friends were like "Oh I saw you on TV".
Your work is very free and figurative, how did you form your style of work?

My mum told me a story about me starting painting at age 2, on the wall or on the floor. My Dad used to let me do it. I remember when I was 14, I was angry because I wanted to stay in the UK because I wasn't happy because my family wasn't there. I used to slam my door and write on the walls all the time. I had poster colours and a brush.
I had a blue wall in my room. I wrote all over the wall, my door, my cupboard, everywhere… It looked like my floors and everything had been SLASHED. But when I went back home a couple years ago my mum had already covered it up. I was so angry like "come on man" because I still wanted to read what kind of stuff was going through my head at the time. From age 2 to age 27… I've never had a break.
I made a whole genre for myself called Afro Jiggy, so I feel like with my painting, I have created something that is by itself. With this [painting], it's so amazing that I didn't even know… I wasn't trying to… I was going through a phase in my life. I've had a lot of sad times. In my music, for example, I make people dance. I didn't wanna tell my story, cause I want people to feel good and get over their stress when they listen to me. But In my Painting I feel like I can tell stories.
The name 'Fine Rubbish' came from your dad's response to family and friends concerned with how you would draw all over the walls in the house when you were younger? What was it like to grow up with this kind of support and how did it affect your path as an artist today?
— Aside from your dad, were you encouraged by any other members of your family ?
I feel like I've had a lot of support from my whole family. My sisters played a big part, by taking me to the dance group. If I hadn't danced, I wouldn't have made music. If I hadn't had music, then I don't think I would have done art.
Can you describe your creative process and what do you enjoy the most about painting?
My creative process is me being myself, alone in a room. I like to be by myself when I want to create, because I don't like destruction. I'm the kind of person who likes to finish stuff. I don't like to start things and just leave them on the side. It's the same when I make a song. When I get a beat or instrumentals, I wanna finish the song.
Before I start painting I love my incense, I love all my sage, I like a little Jazz in the background. If not Jazz, I listen to some MF doom or J Dilla or some cool instrumentals. The hardest thing is to start. That's what I tell everyone. Once you start, that's it. Trust me, that's it.
What materials do you work with and what draws you to using them in particular?

I don't know how to sketch on a pad, I just do my sketch on a canvas. My colours really give me an idea of what I want to do. When I start putting colours in, that's when I start seeing images, It starts bringing them out, taking a step back and looking or laying my canvas on the floor. I just keep working on it.
I work with acrylic paints, I use spray paints as well, I use my marker pens.
I'll spray yellow, I'll leave it to dry and I'll see an image inside. I'll spray black and I'll see a ghost man. Spray paint does something for me. But I also love the acrylic and the brush, sometimes the spray paint can be so fast, with the brush it's more intimate, you can lay down, draw properly and put down your emotions.
How has this medium of expression made you see life differently?

I just believe in freedom in your mind, when you look at something, your brain is tied to someone else's power. But when it's your stuff, it's like "I made this!" I'm a magician. It wasn't there before and I've just made it out of nowhere.
With art you have to speak to people one-on-one. It feels like I'm giving to people. In music, you have massive crowds. It's so hard to connect with everybody. You can rap to everyone but not address individuals.

What direction do you see your art and career taking?

My Dad told me I should never drop this one-on-one concept. It's basically saying you have to do both together. I've got a show at the O2. I'm going to put a canvas next to me when I'm performing. I'm going to take my art everywhere I go. From now on it's going to be me and my art. If you don't see a canvas next to me while I'm performing, I'll be wearing a canvas and that's what I tell my boys. When I paint on a t-shirt, "You're wearing a canvas bro" I'd rather frame that.

What advice if any do you have for creative aspirants?
I just believe as a creative person, you just have to do what you want. You can't overthink stuff, you can't do things because this person thinks it's cool, you have to do it for yourself. I believe that every talent is a great talent. No matter what you do you need to stay focused and do it everyday. Even if you 'aint got a job, make it your 9 to 5.
No matter what you do, make sure you keep pushing, never stop. Fall down, get up again and keep going.