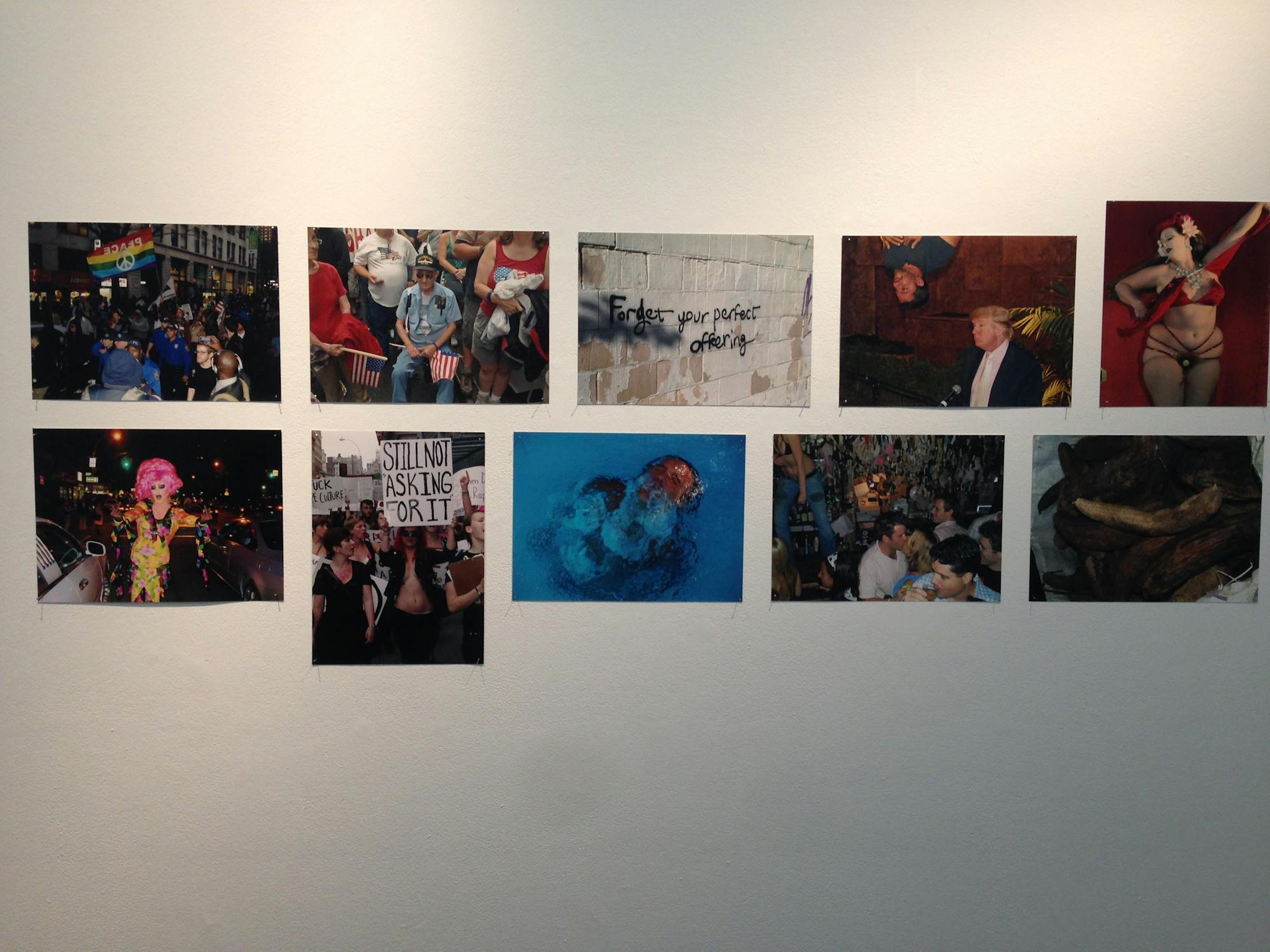 Jamie Green @ICA – The empire on which the sun never sets
Jamie Green is one of 46 young artists whose work has been selected for inclusion in the Bloomberg New Contemporaries exhibition this year, and even in the narrow corridor he's been allocated at London's Institute of Contemporary Art his work stands out. The irony? None of the photographs on the wall were taken by him.
"The empire on which the sun never sets" is actually a curation of images taken by one of the most influential photographers of recent times. Amateur David Shankbone began taking pictures in 2006 to contribute to the fledgling site Wikipedia. A decade on, over 5000 articles include his photographs, submitted under a creative commons act that licenses them for free usage on the proviso of accreditation.
For his MFA presentation in Glasgow, Jamie Green organized the sequential curation of Shankbone's photos by a dozen venues across the globe, replicating their choices each day in his local space the Glue Factory. The ten currently hanging in the ICA are generation-defining.
Dissociated from their contexts, the images in this collection form a partial moodboard of the past decade. Some of them relate to American pop culture: drag sensation Miss Understood strikes a pose; burlesque star Miss Dirty Martini performs her routine at Howl festival; Donald Trump introduces TV magician David Blaine. The juxtaposition of subversive, fetishised and mass-marketed entertainment forms invites a comparison as to the nature of different mediums.
Some of the images are more explicitly political: American flags fill the frame of a protest against a mosque at Ground Zero; defiant faces and signs line New York's famous SlutWalk; protestors wave a peace flag at the Million Hoodies protest after the death of Trayvon Martin. These are the most memorable, perhaps because for me any foray into politics as a young teenager began with following up on news stories on Wikipedia – it was with images like this that a generation developed a worldview.
Some, of course, are more banal – but despite that seem to express the commonality of human experience. When a man surfaces for air in a pool we don't know who he is, where or why he has been swimming. We don't know for sure what is meant by the graffiti "Forget your perfect offering" above on a wall in Israel. But the simple sensation of emerging for air is one any human could relate to, and the notion of self-expression through street art calls to mind a global tradition linking young people from every walk of life imaginable.
Jamie Green's curation is based on the Creative Commons 3.0 license that allows credited sharing of Shankbone's photos – and this unprecedented freedom of file-sharing and the possibilities it opens up for collaborative art is evident alongside its power to give platforms to dissenting movements, faces to marginalized voices and functional direction to the most mundane activities and phenomenons.