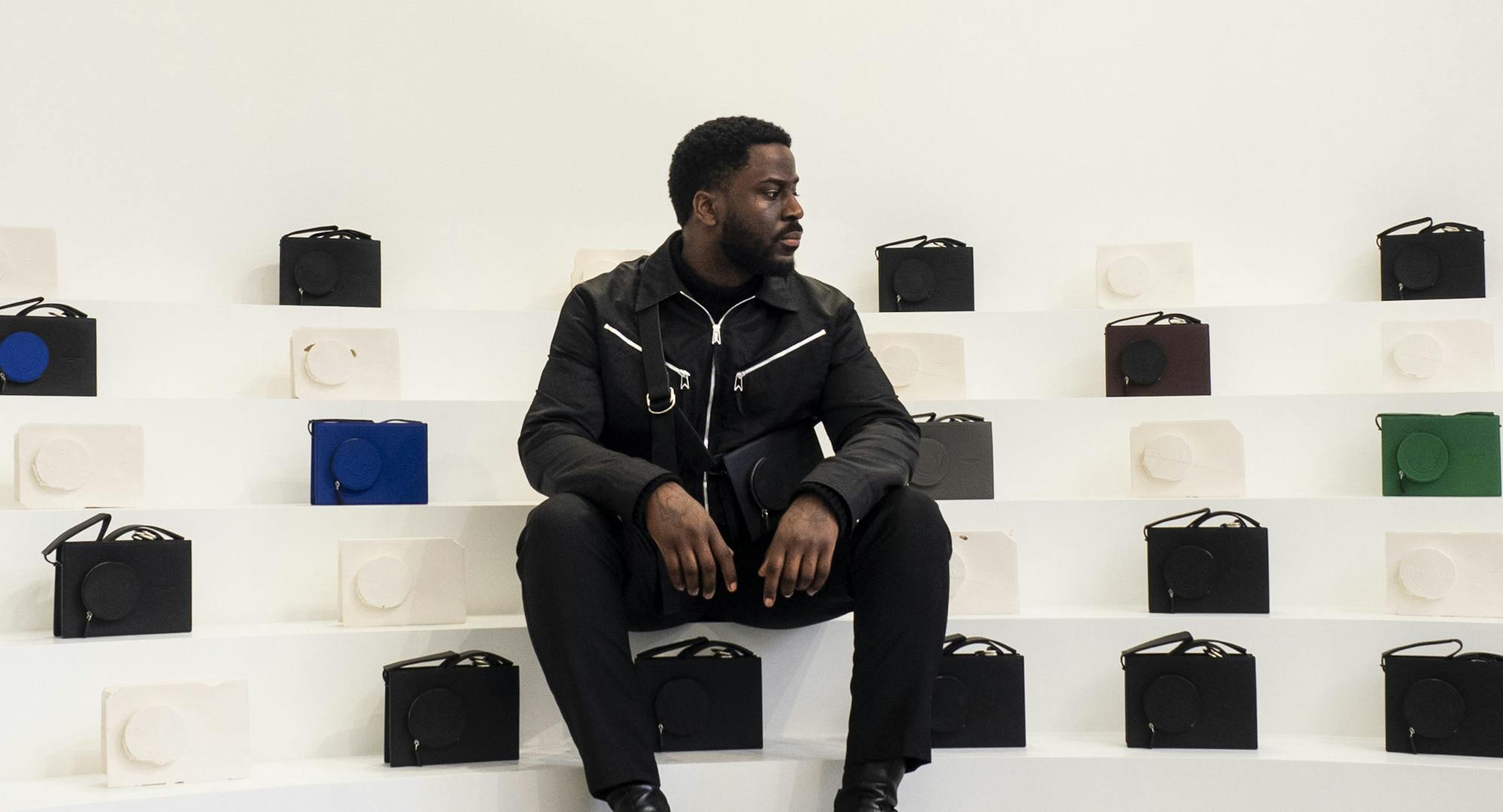 In Conversation With Tejumola Butler Adenuga
This year Tejumola joins the Nosakhari London team as its Art Director, uniting his minimal aesthetic and Nosakhari's Creative Director Nosa Osadolor's sleek urban vision.
Once used by Georges Seurat and Paul Signac to depict the gardens of Paris and the shores of the French Riviera, the legacy of the pointillist movement lives on in a Hackney studio littered with sharpie pens, scraps of charcoal and plain black paint.
Poetry in the form of black dots grouped to shape the contours of one's face, the sadness in one's eyes, or the warmth of an embrace, is as much of a contemplative practice as it is a creative one for Tejumola Adenuga. 
The 27 year-old Nigerian who moved to London in his teens, uses his color-blindness to his advantage, creating monochromatic depictions of the icons shaping a modern age.
"I didn't study pointillism at all. It was something I adopted because of my color blindness and since I am not good with colors, it was easy to create shades with ink. I found pointillism a more rhythmic calmer process," adding that people recognise his intricate, almost codified work without the need for him to sign it. It's no surprise that today 70+ individuals have Adenuga's portraits tattooed onto their bodies. 
Surprisingly, renderings of famous legends like late actor Chadwick Boseman, who played the superhero Black Panther, were composed using photos gleaned from social media or the internet, rather than working in the presence of real-life models.
"I see myself as a fancy photocopier in a way. I actually try to avoid the in-person perspective and interpret through re-visualising something that already exists," he shares in an interview.
Adenuga's trajectory was launched by his work with UK-based rapper Tinie Tempah, a gig he unexpectedly nailed through Twitter while still a student at Ravensbourne University. "Tempah asked me who my team was. It was just me," he quips. By affording him the opportunity to cut his teeth designing album covers and styling stage ensembles, Tempah gave Adenuga a rare chance to prove himself and soon after, Adidas offered the young creative a collaboration deal, delivering him a substantial check while he was still living with his parents. "The envelope had been sealed all night. I came down to breakfast the next day and opened it. We were all freaking out, but it was more than enough for me to start doing my own thing," recalling his first major exhibit at the Old Truman Brewery in East London in 2016. Since then, he's used his earnings to concentrate on his core passion – his portraits — as well as trips that cultivate an expertise outside the realms of his own artisan craft — touring European craftsmanship hubs like the typography and book-binding heartlands of Hamburg, Germany; and the Marble ateliers of Carrara, Italy.
A rising social media sensation through other collabs with Beats by Dre, Selfridges, MTV VMA's and Dr Martens, Adenuga has garnered a cult following.
Most recently, he's come to the fore for his work with the Soho house interiors collection, producing everything from chairs to bed frames and lamps with his unique minimalistic aesthetic. Branching out to other disciplines means his studio is now littered with unexpected materials like plaster jesmonite resin base, the same metal aluminum used for Apple Macbook computers and plastic… in addition to 70 different kinds of white paper.
This year Tejumola joins the Nosakhari London team as its Art Director, uniting his minimal aesthetic and Nosakhari's Creative Director Nosa Osadolor's sleek urban vision.  Together, this marriage of visions marks a new era for the brand and Adenuga's foray into the world of luxury leather goods and the adoption of leather as a new medium of expression.
Infusing his artistic spirit into the Nosakhari London brand, Adenuga unfurled six works of art to convey the message behind the brand's new Signifier on February 17th at an exhibit at the 11 Dray Walk exhibition space in Shoreditch. 
His first leather accessory, the Butler Crossbody bag was revealed,  infusing his sense of humanism into the constructivist minimalism of Nosakhari's signature pieces. A practical and luxurious must-have, the sleek new bag measures 21cm x 15cm and with a gusset width of 5.5cm. It is made from a full grain leather with 100% cotton drill lining. 
With one main compartment and a wide adjustable strap with silver toned hardware, it is finished off perfectly with the brand's new signature signifier logo which is embossed on a small zip pouch on the front.
"Leather is always going to be this constant material. What's fascinating to me is that you can have super soft leather that wraps around you like a garment but can also become a bag that's super stiff and strong," he said, noting its potential as a multi-textured, blank canvas.