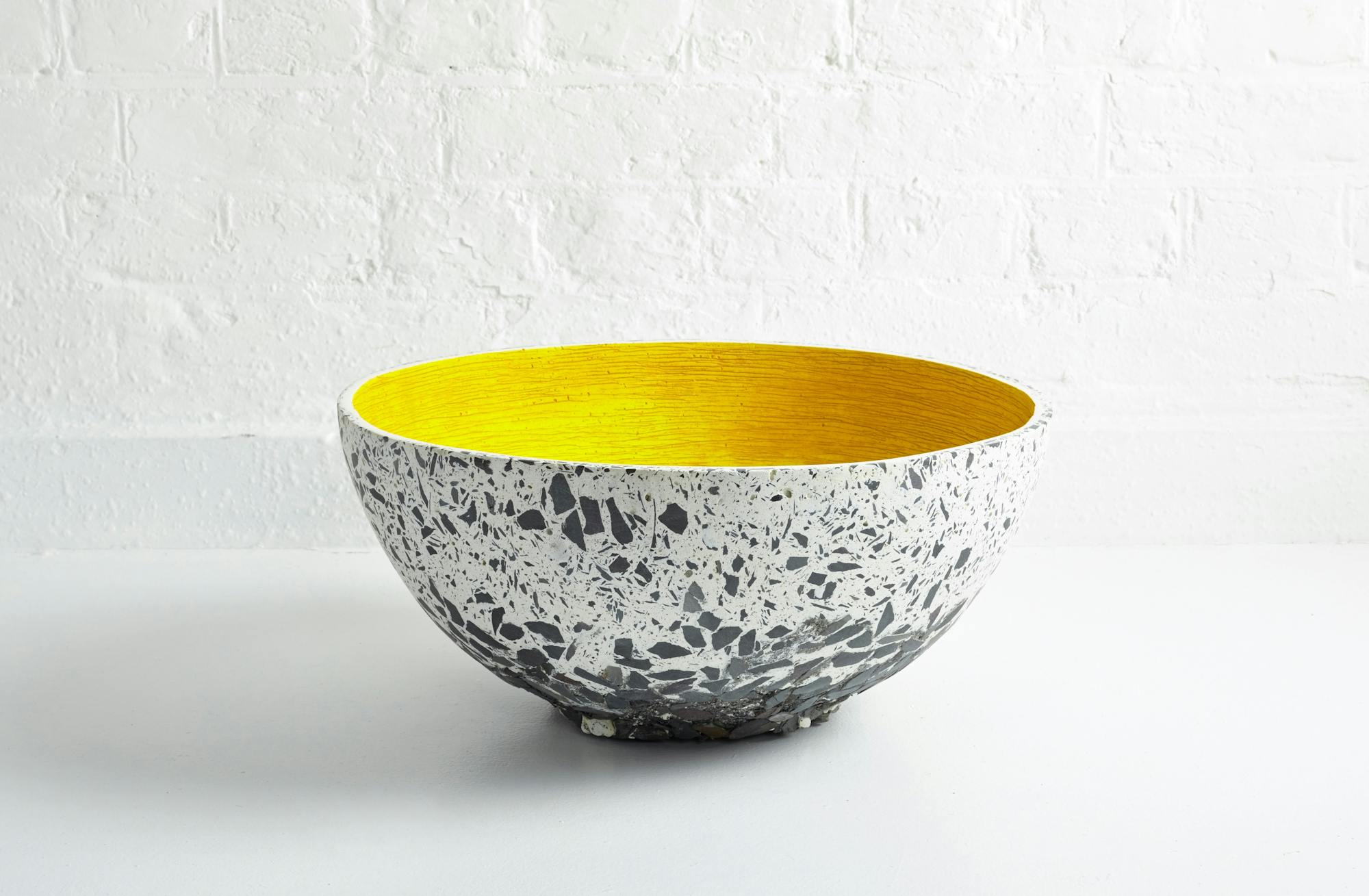 In Conversation With Stephanie Tudor
Visual Artist Stephanie Tudor chats about her design explorations from creating surfaces made of Jesmonite and natural reclaimed materials to working on collaborative projects in community spaces.
Nature-loving surface designer Stephanie Tudor adopts a multidisciplinary approach to her work, which she says keeps her on her toes. She explains "For me, being challenged is what pushes me as an artist and a designer. Being multidisciplinary enables me the flexibility to work on a wide range of products; from small products which help me test out ideas, to collaborative projects with other inspiring artists which push me creatively, or large architectural commissions where my role is much more engineering and fabrication-based".
The Bristol-based artist studied Textiles at Central Saint Martins where she experimented with every material she could get her hands on. It was whilst creating a "Super Tactility" wall for her third-year project – which encouraged people to consider what their built surroundings could look like – that Stephanie developed a love of casting. Most of her work is now crafted using Jesmonite; a resin-based plaster.
Tudor elaborates "Since then, I have been refining and developing the method of trapping different elements within Jesmonite (back then it was plaster!) to create interesting surfaces. The use of natural and reclaimed materials has always underpinned my work, bringing old forgotten materials to the fore and reimagining them into something beautiful". Highlights of her exquisite Jesmonite designs include her London lion sculptures intended for seating and play, as well as bespoke work surfaces.
Stephanie admits "Over the last few years I have re-discovered how powerful a tool creativity is. I sort of take it for granted, being lucky enough to have been encouraged from a young age to go to university to pursue a creative career".
The designer has since extended her love of artistry deep into her Bristolian community by running creative confidence-building workshops (for all ages) in a "safe, engaging" environment. She says "Workshops are such a wonderful way of encouraging creative play, especially those who do not usually have access to environments where this is possible. You can almost spot those moments when people get lost in their imaginations or creativity and are fully focused on their work – those moments are so fleeting in our busy lives, but so important!"
Tudor also co-ran a shibori dying workshop in Morrocco with designer Lola Lely. She reminisces "We were leading the sessions at a women's centre, and although there were translators helping us, most of our communications came through our hands and eyes which was really powerful. The first half of the week we dyed fabric with indigo and in the second half, the women showed Lola and me their skills with sewing and embroidery. It was a really special experience".
It was her desire to engage and unite local people through creative play coupled with an urge to regenerate neglected community spaces that inspired Stephanie and her three colleagues to set up Studio Meraki in 2016. A tragic accident near Stephanie's then studio in Mill Hill became the driving force behind a series of community space restoration projects.
She discusses Mill Hill: "We saw this as an opportunity to reimagine the space, received funding from the Arts Council and worked with local women and families from the area for almost 2 years.
This culminated in a total redesign of the space – new planting, wayfinding, furniture and play equipment – all driven by the needs and requests of the community. As a result, space is used so much more, families can relax there, and children can play there constantly with far less antisocial behavior and litter".
Growing up in the Bristolian countryside, Tudor has always drawn inspiration from nature. She elaborates "Whenever I need inspiration, I seek out solitude on a damp walk and marvel at the ingenuity of it all, from the tiny hairs on a ball of moss to the carefully hidden blackbird nest in a hedgerow".
The artist stresses that appreciation of nature among younger generations is instrumental in preserving our surroundings. Stephanie says "Giving children from inner-city areas the opportunity to develop a fascination with nature and the outdoors is so important, especially if we are to protect and look after our precious environment. How can the younger generation do this unless they have magical moments of connecting with it too?"
Consequently, many of Tudor's nature-inspired workshops such as her "Go Sketch" classes – which include drawing, painting and sculpting – target children and run after school and during the holidays.
Looking to the future, the surface designer is aiming to develop her practice further to combine sculpting and community work. Stephanie exclaims "I have some ideas on how this might come about but it is too early to give it all away – hopefully in a few years I will be working on big collaborate sculptures!"
You can check out more of Stephanie's work here
Images Courtesy of Stephanie Tudor