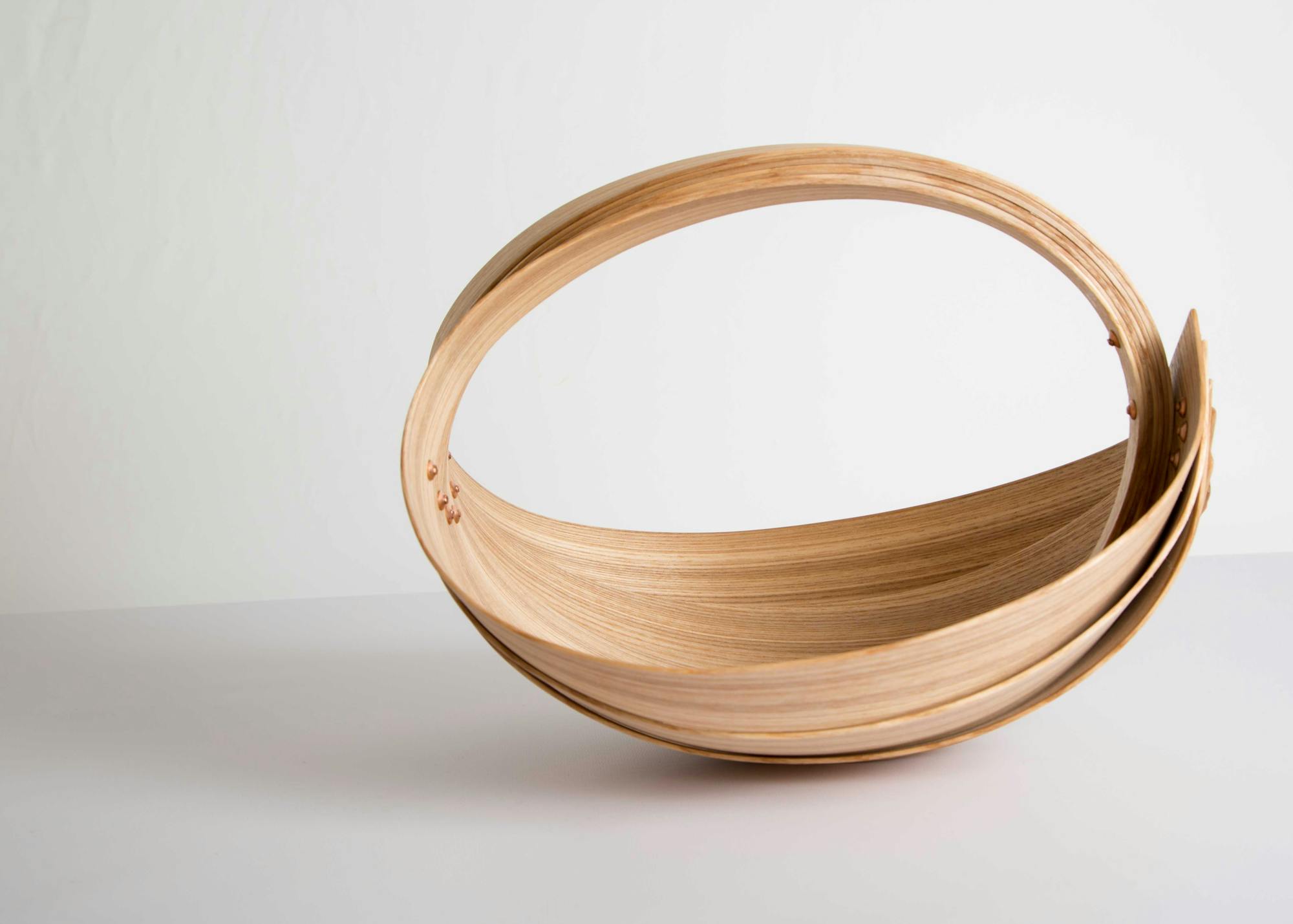 In Conversation with Jane Crisp
We caught up with furniture designer Jane Crisp, to find out how her boatyard lifestyle and love of nature have contributed to the development of her creative practice.
Nature enthusiast Jane Crisp creates furniture masterpieces from her home studio in the Cambridgeshire countryside. Jane's journey to becoming a bespoke furniture designer was fuelled by a passion for the great outdoors and a childhood making rabbit runs for friends.
Growing up, Jane travelled to different parts of the world and explored cities in the UK before eventually moving  onto a narrow boat in Norfolk. Here she became inspired to create purposeful objects from wood, fabric, and leather. Jane explains, "My boat lifestyle created an obsession inspired by the Shaker's furniture makers ethos. Everything I made had to be beautiful, useful and fairly small. I looked at things like they had to have a purpose and assist you in your daily living. My most interesting and treasured discovery would have to be my signature boat-builders copper nails and roves. These are very special and traditional and appear in most of my products."
Since her boating days, Jane has begun experimenting with materials derived from nature such as walnut, cherry, elm, and yew. She elaborates, "I'm an outdoor person and the feeling I get when I am close to the seasons, the weather, the elements, and nature is something I've tried to install into my work. The objects I make represent that too, like my milking stools and my garden trugs. They are objects that derive from a necessity of life and they connect you back to nature in a direct way."
One of the greatest developments in Jane's creative technique has become her magical method of steam bending wood, which she says was the perfect way for her to realise her curvy design ideas. She says, "I'd seen this technique at a boatyard and I could start playing around with very little outlay. I felt it added a bit of mystery to my design and I could get great sculptural qualities with the technique. I love to show what the material can do and celebrate its properties. It's really the materials themselves that are beautiful."
The designer explains that it's her intense need for perfection that drives her towards product development, leading her to spend large amounts of time working out how to control and manage materials to fulfill complex product designs. Jane says, "The objects I tried to make were extremely difficult and I was asking for the materials to do far too much. It took hours and hours of work to figure out how to control and manage the materials. My intense need for perfection means I'm constantly working on product development. But this also means that I have developed my understanding of form and the individual craft practice that I can develop further in my new designs."
Jane typically works with ash, which she describes as a gift from nature and perfect for steam bending because it's strong, shock resistant and bendy. Jane's use of this evolutionary technique has allowed her to create curved products such as bangles and trugs, which she finishes with a hard wearing wax oil.
Reflecting on her creative talent, Jane identifies the most challenging element of being a maker; finding a work-life balance. She says, "I plan, make lists, work really hard and try to see my friends and family. If I focus on one side of my business, I feel pressure from the side I am ignoring. Learning to balance the different sides and control the feeling of pressure, needs constant attention. As my business evolves, the balance in my life evolves."
Despite the challenges attached to her craft, Jane remains humble and appreciative of the value it has added to her life. She also recognises how support from people close to her has contributed positively to her creative practice. Jane has shown her appreciation for her nature-loving supporters by planting a grove of trees in the Scottish Highlands, entitled; Trees for Life.  She says, "I planted a grove of trees in the Scottish Highlands as a thank you to everyone who has supported my craft practice and who I know really care about the environmental impact of the things they invest in." The designer also sees these trees as an opportunity give something back to nature, which provides her with the wood that she needs to create her products.
Jane's journey with her craft has taught her much about life and she finishes by revealing her creative philosophy: "Be strong and be grateful, never give up and enjoy every minute of being a maker."
You can see more of Jane's work here.
Images Courtesy of Copper Boom Studio and Natasha Biggs respectively.