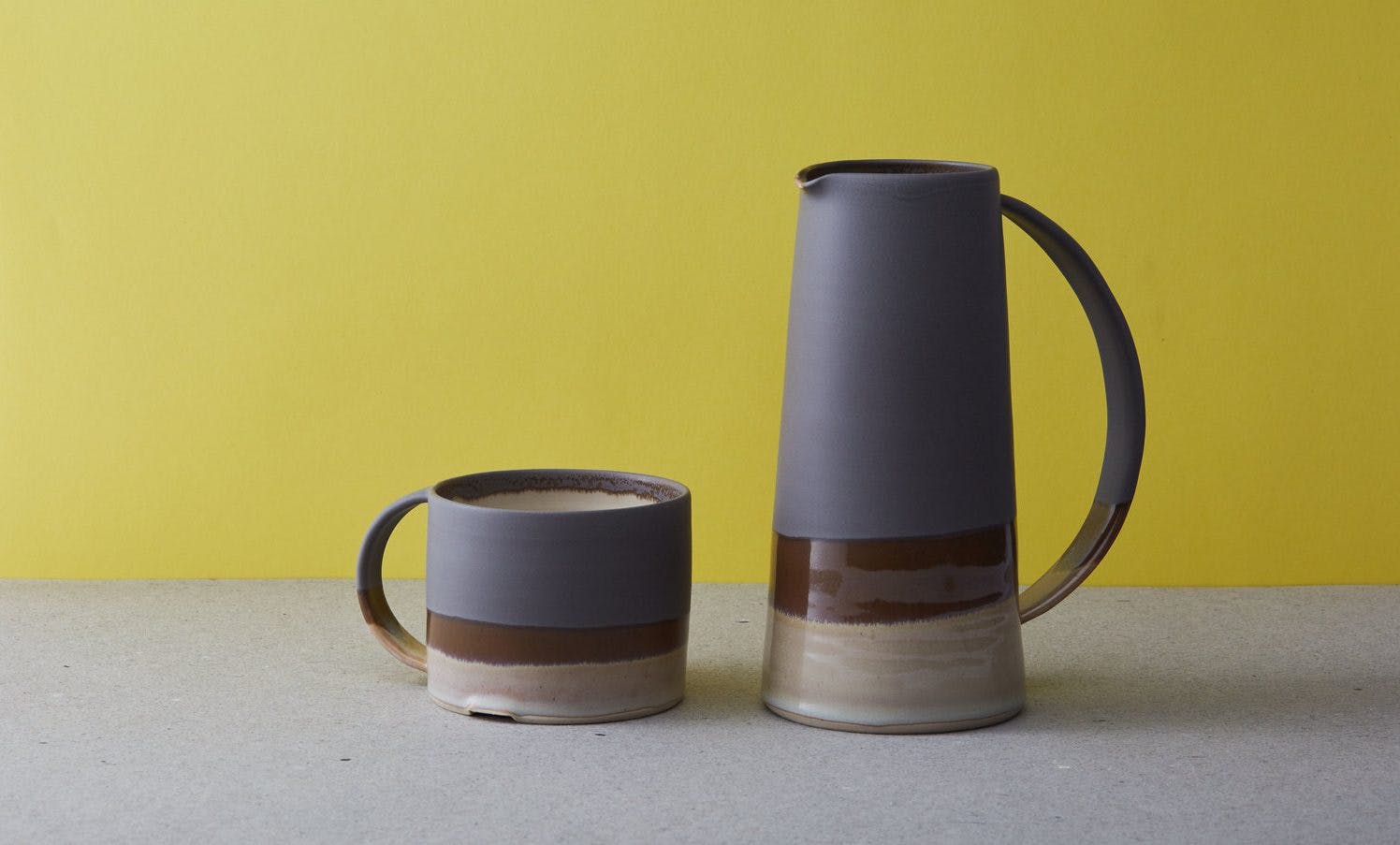 In Conversation with Emma Lacey
We chatted with ceramicist Emma Lacey to discover how she uses an industrial approach to deliver unique ceramic objects, forging an exciting new space in the world of craft.
For Ceramicist Emma Lacey, making has always been a deep-rooted part of her being. Emma is a well-established designer and maker, working from her studio in North London with both hand crafting and industrial techniques.
Even as a child, Emma's creativity shone through as she attended ceramics classes at the local YMCA before joining an evening class at 16. She says, "I am going to start with that cliched line, but I have always made things. I have been constructing, drawing, sticking, inventing and designing for as long as I can remember. I took ceramics classes as a child at the local YMCA and joined an evening class (of mainly mature students) when I was 16. It was on my Art Foundation Course at Middlesex University (everyone should do an Art Foundation Course) that I discovered that there was a professional craft world. This is a thing I could do as a subject!"
Emma's revelation led her to follow her passion by enrolling on a Wood, Metal, Ceramics and Plastics BA at the University of Brighton, where her relationship with clay intensified. She explains, "I specialised in clay and metal-work, finding that, although I enjoyed woodworking and plastic casting processes, it was the more immediate and intuitive way that I was able to work with clay that appealed to me. I work, design and think in three dimensions so the opportunity to quickly make, realise objects in space to evaluate both the visual and practical weight and balance of them, works for me."
The human body has always been a huge source of inspiration for Emma's work, with most creations tending to be about or related to the vessel. But the epiphany that would change the nature of Emma's work came whilst working alongside potter Karin Putsch in Italy, when she started adding handles to her sculpted vessels.  She explains, "I enjoyed observing the intimacy which is provided between object and person the minute they are invited to touch and use it through a design intervention (a placement of handle, a detail of rim, essentially a suggestion of function and therefore permission to use)."
After finding a more niche area of interest within her craft, Emma began experimenting with producing ceramic objects in volume whilst studying for her Master's in Ceramics Design at Central Saint Martins. She says, "My Master's course provided crucial insight into the practicalities of producing in volume: the level of testing, material knowledge, and expertise which is needed to efficiently and economically produce work which is challenging in shape or concept, but which is conventional enough in design to fit into standardised production procedures."
Emma's time at university led her to research design and production feasibility when working in factories, which also led her to her first series of personal challenges. She elaborates, "I suppose an initial challenge as an enthusiastic graduate, full of grand ideas to change the world, is the realisation of the level of investment needed, both time and finance, to test new ideas in an industrial context. With some processes, it is not worth tooling up for a particular shape if you are not going to produce thousands of it. I also learned and continue to learn about the level of compromise needed when collaborating and producing in factories."
But with challenges come growth, and Emma has now established a suitably balanced creative process. She says, "My design process is a careful balance of working out the most appropriate materials, processes and qualities for a particular piece.  Some of my work needs to be hand-made to maintain particular qualities. Other designs celebrate the qualities of a more industrial aesthetic."
Her work, 100 mugs, explores how she can combine uniqueness with repetition by utilising the spectrum of colour. Emma recognises that she has a certain amount of design responsibility by bringing a sense of personal feel to an object in a world where objects are mass produced and manufactured into perfection. She explains, "The relationship between hand, eye, and brain is so intrinsic to the way I work and, I think to the way people relate to the objects they use, so at some level this action or gesture of the hand and its relationship to clay and object has to be a characteristic of my work."
Emma is excited and terrified by global manufacturing and implores creators to think beyond aesthetics, considering where, why and how an object is used if it's to combine both practicality and pleasure.
She says, "I address this notion of design responsibility through my intention to celebrate the details of an object which go beyond just how it looks…I use notions of tactility, in surface and form, to engage senses and encourage a thoughtfulness or at least enjoyment, which means the objects I create are not 'throwaway' but provide opportunity to be appreciated over time."
Emma wants consumers to have a heightened experience when using objects from her Everyday Range, like the flow she feels when she's throwing multiple pieces or getting deep into the design process. She also encourages consumers to consider the time, energy and thought that goes into designing and making.
The talented ceramicist reveals how a deep relationship between the object and person is formed, and how her work aims to connect with people on a personal level.
She explains, "I hope my work, especially the Everyday Range, can give people a moment to themselves; a heightened moment, a thoughtful moment.  Perhaps something close to the flow I feel when throwing multiple pieces or getting deep into the design process. I am very picky about the objects I will use (I am a nightmare in a bar) and do cherish an experience where a perfect balance between object, material, function and experience can be achieved. "
As society continues to move towards uniformity in mass production, Emma Lacey has claimed the space between uniqueness and volume, allowing more consumers to have a personal experience whilst using an everyday object.
You can see more of Emma's work here.
Images Courtesy of Yeshen Venema and Emma Lacey respectively.