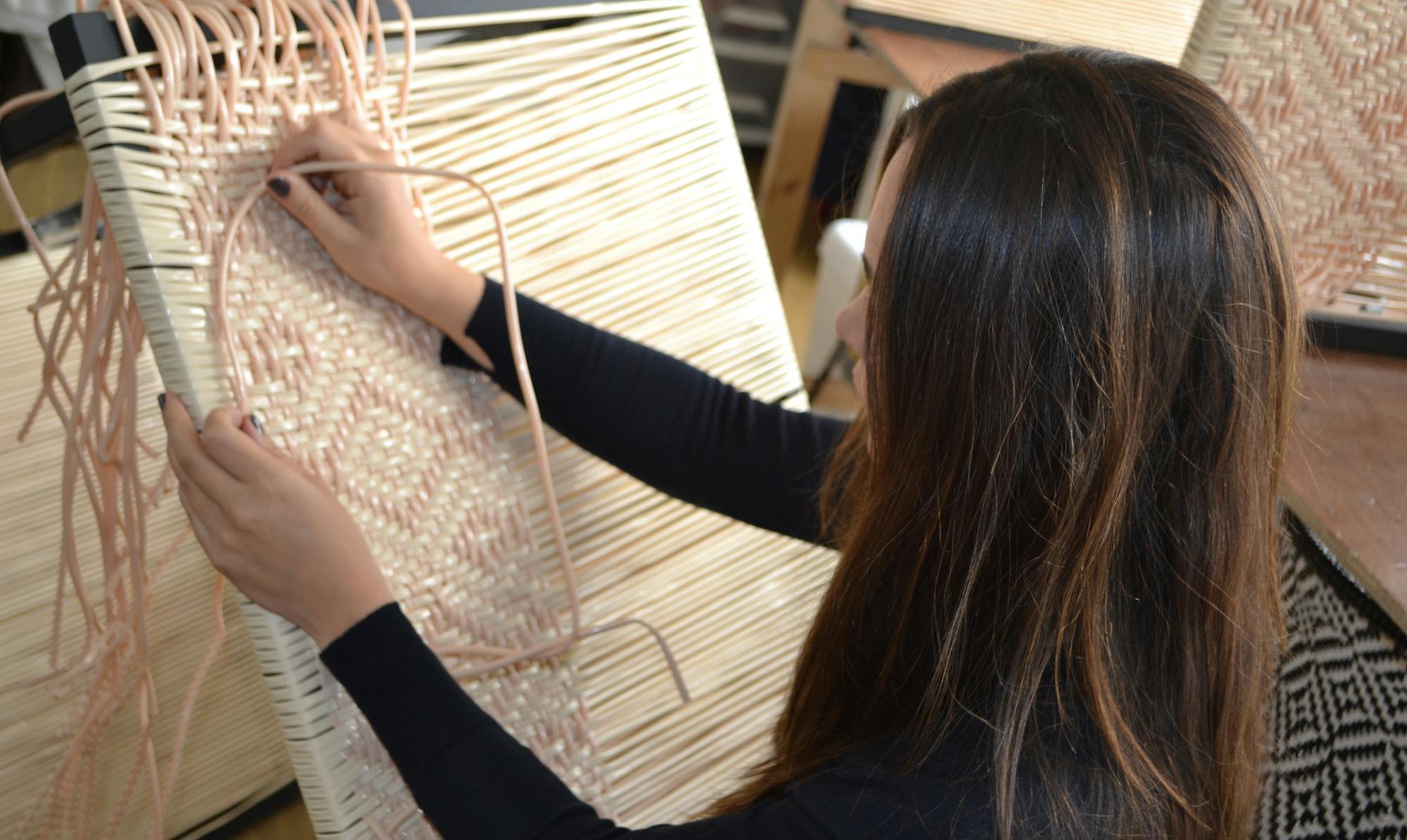 In Conversation with Carolina Ortega
We caught up with product and textile designer Carolina Ortega to find out how her Colombian heritage influences her work and how she plans to weave her way towards more future success.
Heritage means everything to industrial product and textile designer Carolina Ortega. As a proud Colombian, Ortega's roots are the heart of what inspires the woven PVC textile designs on her furniture products. The designer says the importance of her craft is linked to challenges faced growing up.
As a child, her daily routine was ruled by safety measures in a country overrun by violent crime, and at 25-years-old, she suffered a life-threatening illness that changed her perspective on life forever. She says, "I developed a strong sensibility and sense of balance. I now appreciate the beauty of every little moment and value my heritage more than ever. [My craft] reminds me where I come from and of all the battles I have won to be the person I am today."
Ortega and her two brothers were brought up by supportive parents in a high-middle class family, which allowed her to objectively view the best and worst things about her home country. She says, "I grew up in a country where the armed conflict restricted us very much as to where we could go, and you always had to be very careful about yourself and your belongings. People would get kidnapped, they would put bombs in the city and so on… it was hard times. But on the other side, I grew up in a country very rich in fruits, flowers, colours and good hard-working people."
The designer believes that working on the family farm growing up helped her remain humble and open-minded. She continues, "We've always been very blessed because in Colombia you get to see that not everyone has the same opportunities that me and my brothers had, my parents, worked very hard to give us the best they could even though the situation wasn't always great. Because of that, I can say I am very sensible and down to earth."
Ortega credits her parents for always encouraging her to try different classes including ceramics, dancing, and painting. She says they always knew she "was going to be an artist or something similar" when she grew up. So, it was no surprise when Ortega went on to complete her Master's in Textile Futures at Central Saint Martins.
Whilst studying for her Master's in the UK, Ortega noticed that the media always showed a one-sided – usually negative – view of Columbia. She said, "It always had to do with the mafia, guerrilla, drugs, and very disturbing things, that even though they are true, they are part of our painful history and our past."
Following this realisation, the budding designer set about trying to offer an alternative view of Columbia, which she describes as "…the side we, as Colombians choose to see, the bright side, the one where there are dreams…" She began drawing inspiration from Colombian crafts and indigenous patterns by adding traditional weaving methods to contemporary designs to create "useful art" – mostly- furniture with beautiful woven patterns. Very quickly, woven textiles became the highlight of her work.
Ortega's time at Central Saint Martins also enabled her to develop the creative process behind her craft.  She says, "I think that I developed a lot of abilities during my time at CSM because it really took me to the deepest and darkest places within myself, which helped me realise the kind of designer I am and the one I want to become."
Giving an explanation of her creative process, she says, "I think about a character, a setting and a why? Then I ask myself what? Usually furniture. When? I get inspired by different times in history and go back and look for inspiration. And finish with how? This is the hard part, so this is the time I start combining different shapes, colours, autochthonous Colombian patterns, and styles." But, Ortega admits she never knows what a finished piece will look like because she often changes her mind partway through weaving, adding a unique touch to each product.
Looking to the future, Ortega plans to push her weaving skills to another level; combining PVC with different materials to create new patterns and products inspired by Colombian craft.  She also hopes to work with different communities to inspire products that can be sold around the world.
Her future looks bright as she continues weaving her way towards global success.
You can see more of Carolina's work here.
Images Courtesy of Felipe Rodriguez and Carolina Ortega respectively.