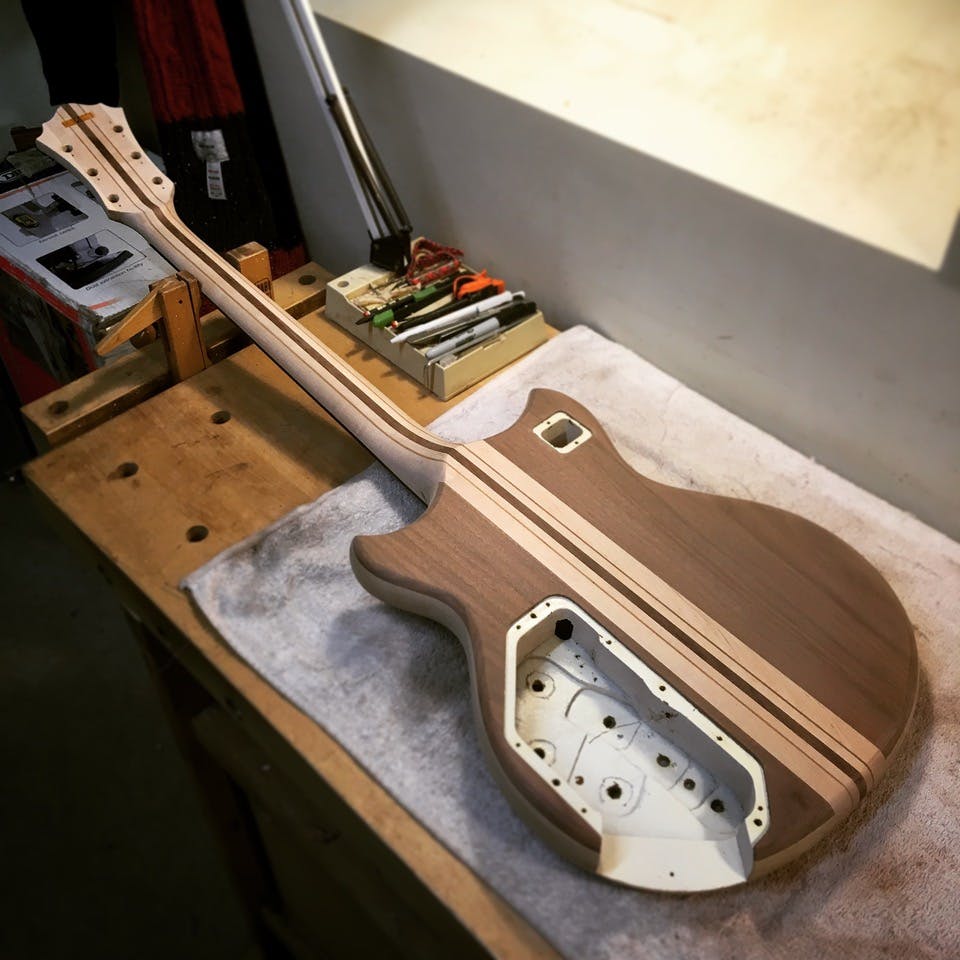 In Conversation With Alex Bishop
We caught up with guitar-maker Alex Bishop to chat about his journey from aerospace engineering to a career in lutherie.
It's not a predictable career development, from aerospace engineering to bespoke guitar making, but it's more logical than you might think. Both incorporate creative and technical skill, and for Alex Bishop, the immediacy with which he could begin working with his hands drew him to the craft over the promise of a stable career plan.
"During my school years, it felt as though everyone around me knew exactly what kind of career they wanted. I settled on a degree in aerospace engineering but, in the end, found it a bit lacking in the 'creative' department. I am very fortunate to have extremely supportive parents, who didn't get in the way of my change of direction and supported me financially in the early years of my business. Unlike engineering – which has a career 'ladder' and obvious points of entry for employment – it's felt at times like I'm hacking my way through some remote unexplored jungle."
The gamble seems to have paid off. Aside from the satisfaction of the craft itself, Bishop's business has won him recognition (including being named as 'Artist In Residence' at The Pound Arts Centre in Corsham, where he's subsequently been based) and a cohort of loyal customers, keen to get a one-of-a-kind, expertly-crafted instrument tailored aesthetically and musically to their taste.
Bishop maintains that "a truly innovative guitar can be found where there is harmony between its sound and its design", and sees an inexplicable, natural beauty in the intersection of these needs in his woodwork. "I enjoy the unpredictability of wood and the way you have to be constantly attentive to it, even after an instrument is completed. A guitar made from wood is never actually finished, it will always change and move over time; the sound will not stay constant, it will mature and sweeten."
The emphasis on the continued development of each instrument – even after the work is done – mirrors the development of Bishop's own distinctive creative vision. Whilst initially his striking geometric inlays imitated elements of Wasily Kandinsky paintings, over time a more original personal style has evolved, that sometimes manifests in carefully-planned designs, and sometimes in spontaneous, intuitive art.
"I hope to give each guitar a kind of artistic personality that might perhaps impart itself on the player in some way. I also get some great input from customers who occasionally set me interesting challenges on the guitars that I build for them, and this occasionally leads me down some unexpected paths. Currently, I'm working on a guitar that is inspired by the 'dazzle ships' from the Second World War, which were painted with an unusual geometric camouflage to help them hide from submarines."
This collaborative attitude ensures that every commission is highly personal, the design developing alongside the relationship between client and maker. From the gypsy-jazz Kandinskiferri series – inspired, fittingly, by a visual representation of music, the painting 'Composition VIII' – to the sleek, retro Electric MB Custom – designed for his brother and informed by his love of 60s garage rock – each guitar is breathtaking in its own unique way.
And Bishop's love of craft is matched only by his love of the music it gives rise to. He plays one of his Effra guitars in the contemporary folk trio for which the guitar is named, and has an impressive catalog of music to his name. Juggling his roles as a father, teacher, musician, blogger and running a business isn't easy, of course, but while his music composition has been neglected recently he's not worried, sure that "in the ebb and flow of life this will come back around at some point soon." More than anything, Bishop is acutely aware of how lucky he is to be able to pursue his passion, and the interview ends with a call to action.
"I used to spend a lot more time at the piano than I do now, but I know that in the ebb and flow of life this will come back around at some point soon. I'm very privileged to be making a living as a guitar maker. It's only been made possible through the emotional and financial support from my loved ones, a combination of bursaries from amazing art organizations, and loyal customers. I would like to see our society spending more time supporting craft and art. By making things with our hands, we are exploring what makes us human, and we learn more about ourselves on both an individual and collective level."
You can check out more of Alex Bishop's work here.
Images Courtesy of Rick Smee and Nikos Tsogkas, respectively.