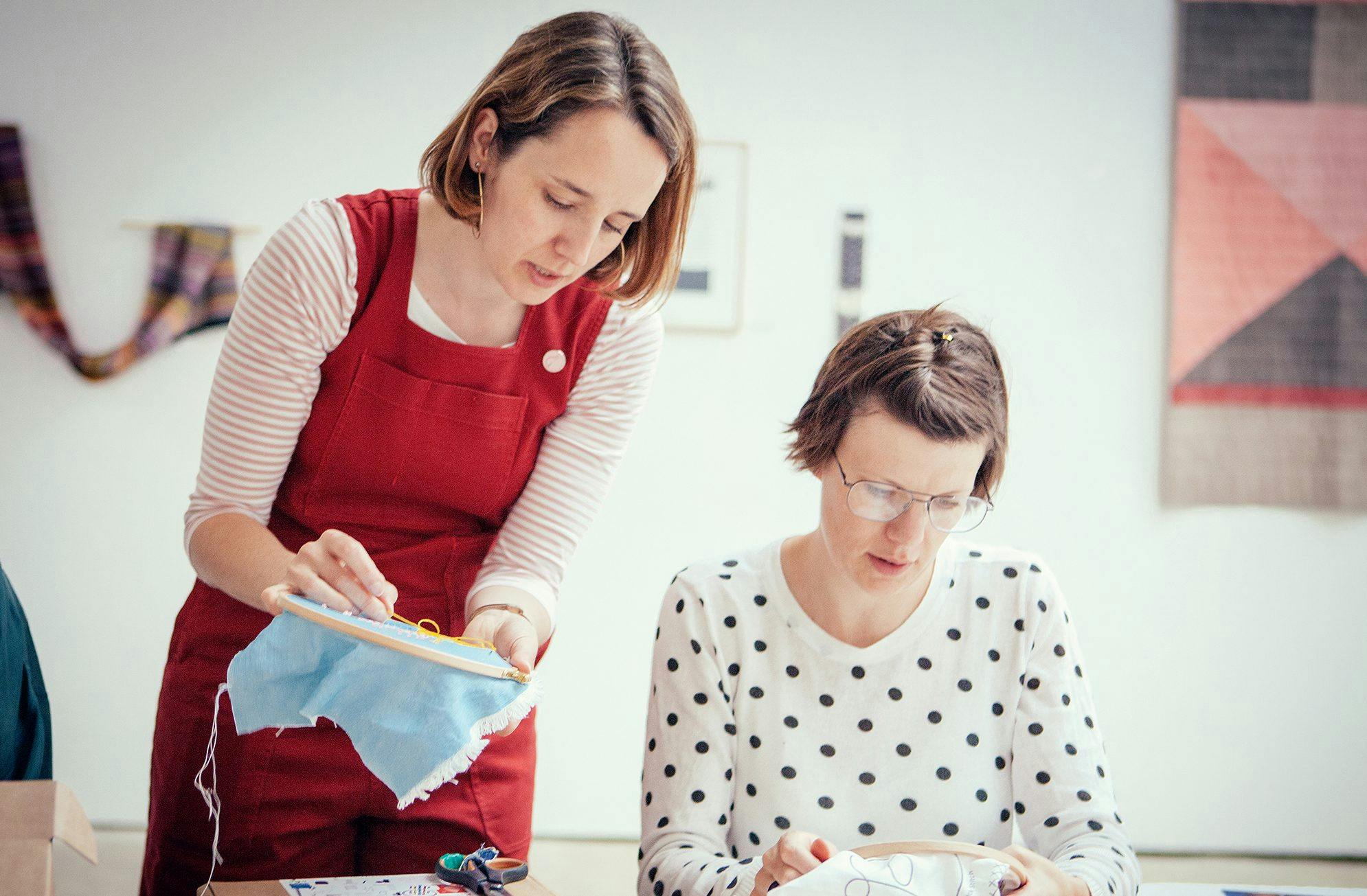 In Conversation with Aimee Betts
Mixed-Media Textile Designer Aimee Betts tells the unique story behind her passion for embroidery and explains why stitching is deep-routed in human nature.
Mixed-Media Textile Designer Aimee Betts specialises in embroidery and braiding; producing bespoke interior products and jewellery from her home studio in South East London. Her journey to becoming an established artist is one of growth, change and years of hard work, beginning with the achievement of a BA Multi-Media Textiles degree from Loughborough University. During this time, Aimee only worked with 3D structures and non-traditional processes and materials, including sheet materials and heat-bonded vinyl. She explains, "I wasn't aware of embroidery and braiding techniques; this area of my practice came much later as I was exposed to different ways of working."
Following graduation, Betts – who had "no classical training" at the time – landed her first creative job in fashion as a freelancer, designing embroidered garment samples. She recalls, "I was often making it up on the spot. I taught myself how to dye fabric and experimented with embroidery and manipulation". It was here that Aimee developed an appreciation for colour, working "intuitively" and responding to her own tastes and seasonal trends.
Two years later, Aimee took the plunge and returned to education to complete a Master's degree in Mixed Media Textiles at the Royal College of Art. Here, her involvement with embroidery intensified as she discovered the Encyclopaedia of Needlework and began incorporating stitching into her projects, aiming to combine 3D structures with 2D fabrics. The budding designer drew inspiration from the Snettisham Hoard collection – which comprises of precious Iron Age treasure, discovered between the years of 1948 and 1973 in Norfolk, England – during her final project, using "goldwork embroidery, braiding and cord making techniques".
Aimee's final stop in her journey to becoming a Mixed-Media Textile Designer in her own right, was to secure a part-time job as a Stitch Technician at Chelsea College of Arts, allowing her to explore the possibilities of stitch. Betts reminisces, "It was initially a very steep learning curve as I had to quickly adapt to the demands of the student's projects and what it takes to be a modern-day stitcher. Learning how to do everything from digital embroidery, to Irish machine embroidery and needle-felting techniques." For seven years, Betts developed her own practice alongside the part-time role, which gave her the confidence to try out new ideas.
Betts admits there are challenges involved in establishing whether a stitch idea is "feasible for a commercial application" due to practicalities such as cost and time. She continues, "It's difficult to find the balance of not compromising on your idea, but also being practical about the cost of the final product."
Now an established textile artist, Betts reflects on how she established her own artistic style and reveals the value of interaction with fellow artists in her creative processes. She says, "My style of work has developed with the changing of influences and environment. It's important to keep things fresh by bringing in new materials and learning new processes. I'm not afraid to try something new and enjoy collaborating with other makers. I get a lot out of talking to other designers and artists, sharing interests and experiences."
The designer is also fluid in her creative approach and is inspired by "making something from nothing". She explains, "Needlework, like any form of making, requires us to problem solve and make decisions along the way. During this process, we experience what happens when we put different colours and textures together, how the base fabric influences the final outcome and how our hands and eyes adjust to different types of sewing needles."
In September 2017, considering needlework beyond her own practice, Betts and textiles author Melanie Bowles founded Stitch-School, to encourage people to learn stitching and embroidery at their own speed. They also run a Supper Cloth event which enables collaborative embroidery at a 2-meter stitch table. Aimee elaborates "It's called the Supper Cloth because we see it as a source of nourishment, as well as an opportunity to share ideas and techniques or just chat".
Bowles and Betts promote stitching as an "antidote to modern devices" due to its historic role in human survival, from creating "fisherman's nets to garments worn during rituals".  Betts continues: "When I look at embroidered or knotted objects in museum collections and archives, I'm struck by the ambition of creating detailed works by using simple technologies such as a needle and thread."
To Aimee, stitching is more than just a skill. She explains "Stitching is part of our nature and we experience flow. Having a craft in your life helps you to value and appreciate quality. Moments of reflection allow you to filter out the things that aren't good for you."
You can see more of Aimee's work here.
Images Courtesy of Yeshen Venema and Stacey Hatfield respectively.