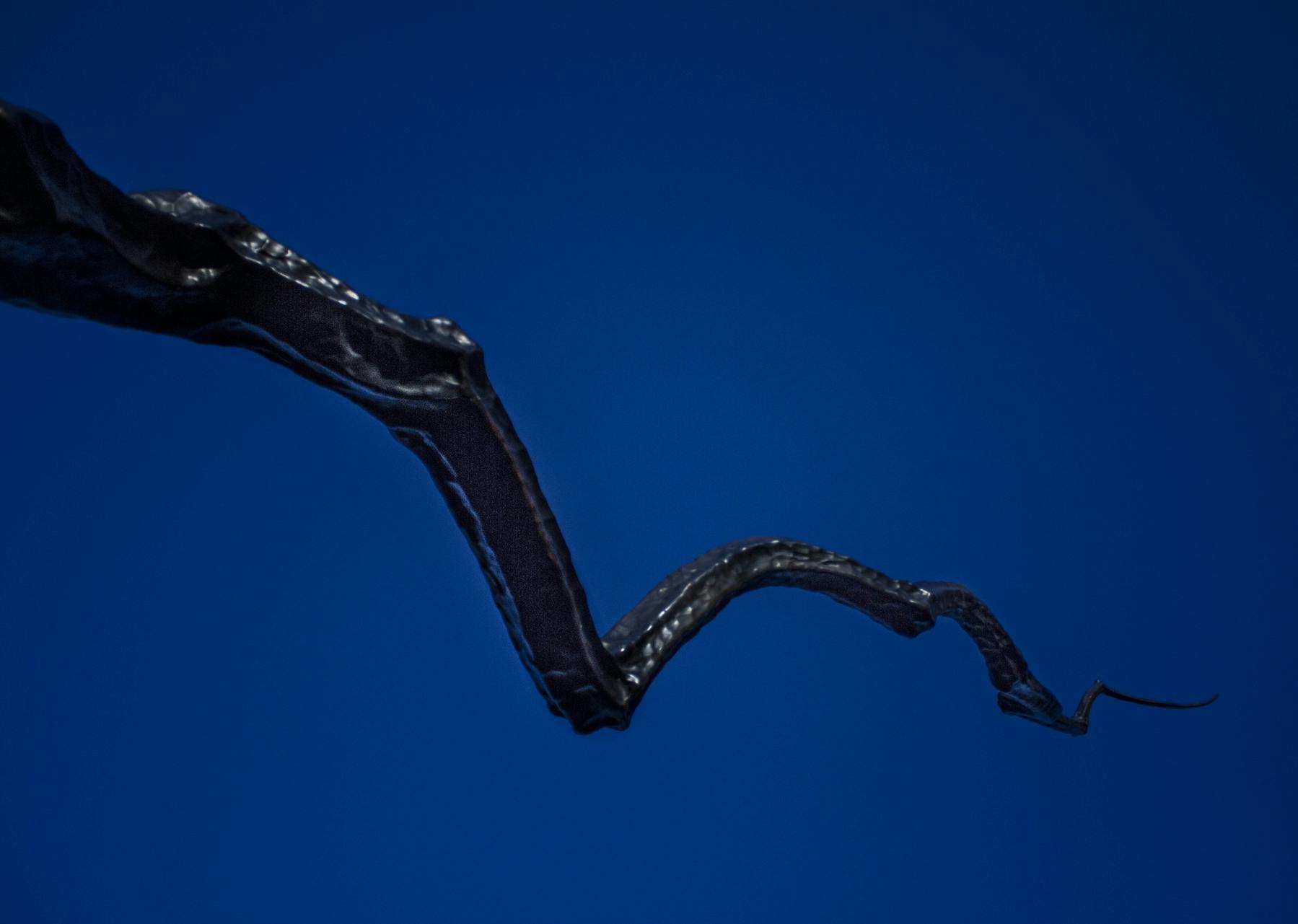 Fanzhi's Untitled (Branch) No.2 @Frieze Sculpture Park
Of all the sculpture art on show at Regents Park, London, Fanzhi's most recent piece is the most thought-provoking.
In winter chill of the English Gardens, Regents Park, a narrowing silhouette winds its way to the overcast sky from a carpet of auburn leaves strewn across the grass. An improbably small bronze plinth base shadows the floor, and on either side of the grass verged by two paths, a small green plaque announces this sculpture by Zeng Fanzhi – cast in copper (Bronze), on loan from ShanghART Gallery – as "Untitled, 2016".
The sculpture is actually the second of Fanzhi's untitled bronze branches. The first, Untitled 2009 – doubling back on itself as if blasted by lightning, so gnarled that it's only by accident that any of it still reaches, weakly, skyward – speaks of the crushing weight of the world and elements. There is some hope expressed in the twig that sprouts from the deformed trunk, but more than anything it is the whelming and penetrative weight of external forces that this piece emphasises. It is a sculpture of effects and aftermaths.
The focal sculpture art in Regents Park is actually Untitled (Branch) No.2, and is simultaneously more isolated and more hopeful than its predecessor – a single, delineated bole stretching unevenly but defiantly, fringed by the tangled spindles of the trees around it. Untitled testifies to the power of the elements as a victim of lightning, but Untitled No. 2 resembles the bolt that destroys, reshapes and illuminates. As if the might of the elements has been crystallised, the Regents Park installation exerts a magnetic pull on every casual passer by.
Like the other sculptures in Frieze Sculpture Park (as the installation is called), Fanzhi's piece has become as much about how artefacts interact with their surroundings as it is about the artefacts themselves. Untitled No. 2 evinces purpose and power, of singular direction and agency that the real branches in the periphery lack. It also relies on its complete isolation for much of its appeal. Does it seek to possess or escape its surroundings? Does it express loneliness or self-sufficiency? Is there even a difference? The questions linger long after I've left the park, back onto the surreally mobile world of Marylebone Road a few minutes walk away. The park is full of interesting installations that provoke all sorts of reactions, but it's Fanzhi's masterpiece that commands the skyline – and the imagination.
Photos by Daniel Codd