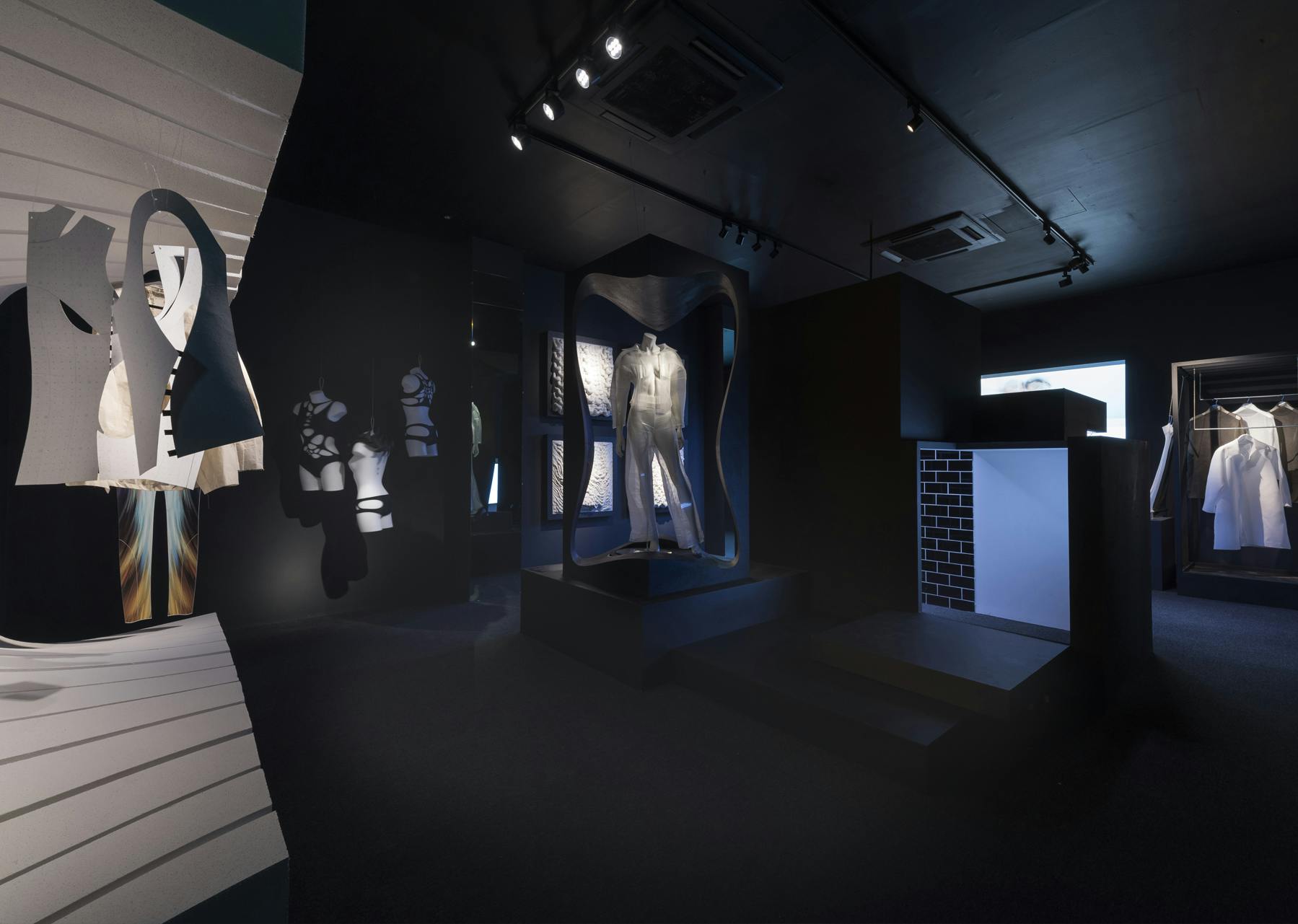 "The Extraordinary Process" – The Future and Zaha Hadid at Maison Mais Non
"In terms of form, all our projects – architecture, fashion and furniture — interest me equally; and all of the designs originate from similar principles. All the projects are connected somehow." — Zaha Hadid
Maison Mais Non's new London gallery space opened this September on Greek Street, Soho, with a mindblowing inaugural exhibition in collaboration with Zaha Hadid Design. "The Extraordinary Process" traces the development of designs exploring the potential for fashion and architecture enhance the human condition. With a diverse cross-section of designers and makers contributing everything from videos and sketches to wearable tech and wallpaper, fashion and architecture are reimagined for a future in which they go, hand in hand, well beyond concerns with comfort and aesthetics.
The first room of the exhibition features objects from the artists' creative processes – a smocked dress from Phoebe English's S/S 12 collection; a spiraled hat from legendary milliner Stephen Jones' archive – while the back houses the "final" pieces. In truth, if there's anything missing from this exhibition is any notion of finality – rather, it's the infinitely divergent possibilities for the interaction of fashion, design and tech that really comes through.
While many of the artists knew or had worked with the late Zaha Hadid, it is the philosophy of radical experimentation and innovative design associated with her that curator Lou Stoppard had in mind when selecting the 9 contributors. Rather than futuristic, Stoppard was looking for "purely speculative" pieces – those that asked questions of our future expectations of fashion and tech, rather than provided blueprints. And the disorientating world I experienced on walking into Maison Mais Non is proof that he found exactly what he was after.
For me, the pièce de résistance is Stephen Jones' work paying his respects to his late client and friend. An oversized vortex hat (inspired by a sketch she had once shared with him) suspended and rotating above a bench designed by Hadid and a cushion made from her favourite pleated Issey Miyake fabric. This tribute stands in good company, however: whether its Minimaforms' foray into evolving "human machine ecologies" in their model "Emotive City" or Iris van Herpen's rotating dress from her "Lucid" collection that uses optical light feeds to form a bubble halo around the wearer, the uninhibited experimentation of the entire exhibition is certainly the most fitting tribute to a legendary architect, designer and visionary.
All images courtesy of Maison Mais Non.