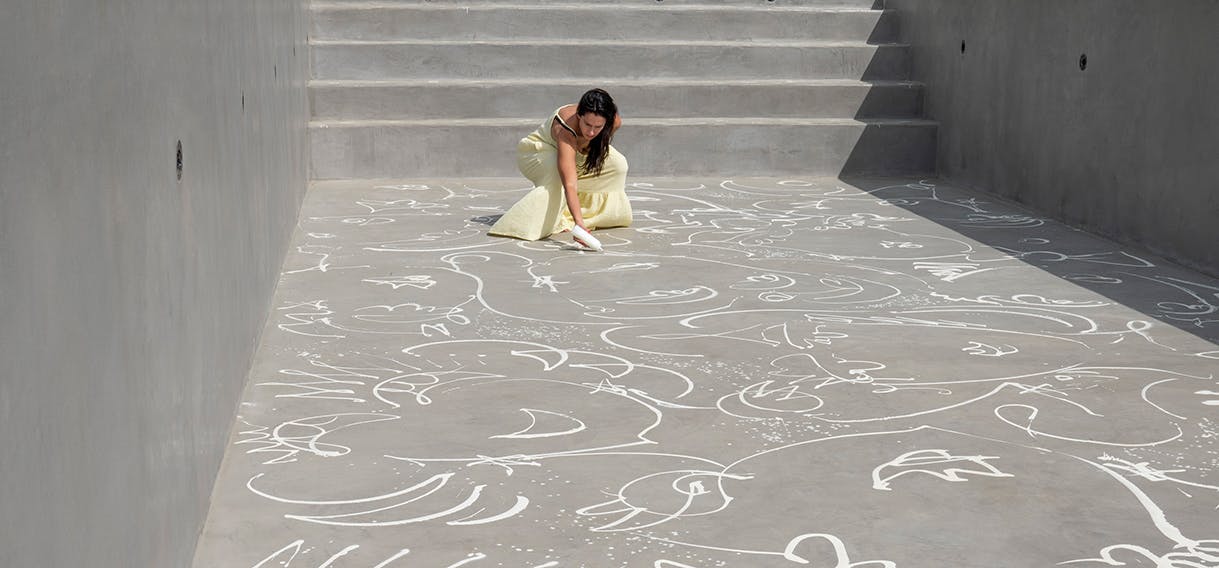 Creating A Modern Tuscan Monument – In conversation with Adrienne Christos
Born Adrienne Papadopoulos,' in Andover, a peaceful town just outside of Boston, the mother of two grew up in the restaurant business. Her father, a Greek American, traded his own promising career path to follow his passion, one she naturally glided into after graduation, opening her own uptown concept called Glory. 
For the greater part of last summer, the artist known as Adrienne Christos painted a fresco the size of a chapel wall, just about an hour away from Florence's Santa Croce church where Giotto's masterful depiction of the life of St. Francis of Assisi is still visible. 
In the living room of US food celebrity Rachael Ray's sprawling villa in the small Tuscan town of Sarteano, a woman's spirit has been fleshed out in monumental, cathedral-sized strokes of acrylic on plaster. The modernist marvel came to fruition in verdant, countryside colors reflecting the calming landscape that was once the pulse of the Etruscan world.
"She's my avatar, my alter ego, my spirit animal. She's how emotion looks and how beautiful feels," the Massachusetts-native reflects when asked about her subjects which are consistently all abstract, deconstructed echoes of one another, bubbly, celebrating all the curves of the female figure and facets of her psyche. 
Born Adrienne Papadopoulos,' in Andover, a peaceful town just outside of Boston, the mother of two grew up in the restaurant business. Her father, a Greek American, traded his own promising career path to follow his passion, one she naturally glided into after graduation, opening her own uptown concept called Glory. 
But less than a decade later, and after being forced to slow down due to motherhood, she decided to rent a studio in Boston's South End, a trendy neighborhood nestled between the city's "Methadone Mile" and the Brahman brownstones of the upscale Back Bay enclave. 
On a normal day, she's nonchalantly dressed in a baseball cap and her clothes are adorned with splatterings of paint as she works listening to music and sometimes sipping a glass of wine. 
Her abstract depictions of the female spirit, hang all over the world in restaurants, upscale condominiums, and the homes of private clients in Australia, the Middle East and Italy.
Emblazoned with slogans like "Fuck Perfection" and "She Came First" it comes as no surprise that most of her clients are female and are empowered by her silhouettes as much as they are by the message of individuality and diversity they convey. Just one of the reasons why HBO commissioned her to create her artwork on site of the hit series "Big Little Lies".
In fact, loyal fans often ask for her to adorn their clothes and even their Louis Vuitton bags, seeing the same effect achieved by Takashi Murakami who once played a major role in modernising the fabled French label's leather goods at the turn of the millennium. These days Adrienne's latest triumph is a 45 x 14-foot pool she painted with white plaster squeezed out of ketchup bottles. "The rules in Tuscany are specific about art outside being somewhat invisible when flying overhead. The colors had to be very neutral and low contrast". What started as a hieroglyphic-inspired doodle now sits among the Etruscan ruins, blending in with the unspoiled nature that surrounds it…  and it may very well be considered a coveted artifact in the millennia to come. 
Interview: 
You used to work in the restaurant business — what was the turning point when you decided it was time to focus on your true passion? 
I have two girls, Axelle and Petra, 8 and 16. I stopped working when Axelle was born and rented a studio space in an art and design district full of creative work.  My studio changed everything. Working carefree in a large dedicated space with bigger tools was the source of a ton of exploration and new technique.  There was also a pressure to show and sell that came with the pressure of rent. For me, that was a game changer too. So my studio in 2013 was pivotal…it simultaneously caused me to take myself more seriously while it enabled me to make bigger, more badass work.
When and how did you decide art was your passion? I've seen pics at your mom's house. Did your parents cultivate your talent? 
I drew all the time as a kid. I never remember anything else I did that held a candle to art. I was constantly thinking about projects in my head…nothing has changed. My mom taught me through her doodles. I can remember her with the coil rotary phone at our kitchen island talking to her friends, drawing a million girls with ruffled necklines, all loopy and quick. They are definitely deeply ingrained. And my dad was an art lover and a maker of things. 
What sort of materials do you use? Techniques and methods? 
Mostly I use acrylic paint and inks, on canvas or paper. I work fast and free. I don't like to measure, plan, prep or clean so there is little to none of any of those things in my process. I see faces in everything and I just start painting them. I work color by color, with many different tools, but rarely brushes. I use hypodermic needles, dixie cups, and handmade tools. My forearms are always covered in prints of what I'm working on, as I use them to blot or transfer images a lot. My work ranges from minimalist – fast gestural ink drawings – to multi layered psychedelic pieces where images are woven together and (hopefully) discoverable throughout years of daily viewing.
Because I work fast and free, there are a lot of casualties. With failed paper pieces, I do make multimedia collage pieces, sometimes with lighting elements.
You've done everything from portraits to frescoes – what do you like best?
My perfect balance is a studio dedicated to free exploration where I am at work on multiple canvases without bounds while also working on a larger scale commission. I do enjoy taking someone through the commission process, where we try to (joyously) eliminate the subjective and "see" together. Starting off, often people have a hard time articulating what they want, like, dislike or don't want at all. It's so important that I understand what they see and are drawn to before I sign on. Through those conversations I learn a lot about my own work and hone my process of finding words for pictures. 
So many layers in your work – would you say it is allegorical in a way? How so? 
Haha. Yes, I like to scatter seeds, love the idea of "to each their own" and open-ended paths. That said, I think there is an overriding story of exciting female energy. I find it very exciting to be a woman, which I do mean in contrast to being a man. I truly believe women are magical powerhouses, full of circles and teardrops and a bottomless capacity to love, nurture, and survive. I hope my women appear thoughtful, perhaps listening to the room from the canvas, full of emotion and self-love. 
Who are some of the women you depict? Do you know them? Can you give some examples of real or fictional subjects you have used in the past? 
 I appreciate the web of women in my life, and I see that web in my work. I am also endlessly inspired by dancers. I love the female body in all shapes and sizes, the roundness. I can make a woman out of teardrops solely. 
Your work emanates with tales of female empowerment… How do you achieve that and what is some of the feedback you've received?
My work is about my search for the ideal woman on my terms. The old-school "ideal woman" was determined by the beholder. My ideal woman is on an internal journey of her own, fully independent of appreciation. She is trying out imposed roles both enjoying and shedding them at times. She is owning everything and feeling everything and riding while driving. Through this confidence, she finds sisterhood and the worship of men.  My work is about Female Magic. 
I am interested in intimacy, pride vs humility, the power and gift of listening, and self-love. My subjects are my heroines and alter egos, they are my dreamgirls full of emotion and self pursuit, round, bold, free and present.  
It's a great source of pride for me to tell you that the vast majority of my clients are female.
What have been your most memorable commissions to date? 
I spent the summer working on a fresco in Tuscany at Rachael Ray's private villa. It was an extraordinary experience. During Covid, we could only go out for 5 days at a time and we did that all summer. The property was coming together around me through the work of an army of Tuscan men, three generations, all artisans. You could taste their pride. Rachael is a friend and collector and insisted she wanted nothing more than "my interpretation of Tuscany" on the massive wall spanning the kitchen and living room. When I arrived it was hand plastered and I was introduced to the man who made the "wall for the American artist." He wholeheartedly assumed I'd do a fresco and Rachael was full-blown delighted for me to tackle my first one in real-time on her wall.  So I started and immediately fell in love with the process called Fresco Secco. 
Also read "Defying all Odds- In Conversation with Ibrahim Songne"