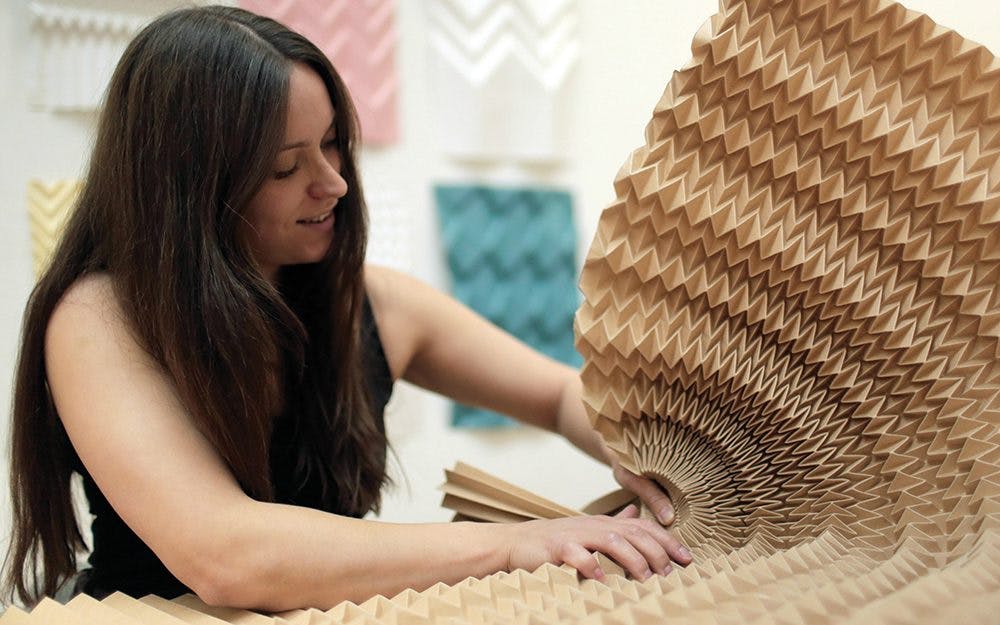 In Conversation With Kyla McCallum
We caught up with origami designer Kyla McCallum to find out more about her inspirations, and unfold her journey to a healthy and fulfilled work-life balance.
As the Founder of London-based design studio Foldability, which crafts origami set designs, interior products, and bespoke installations, Kyla McCallum appreciates just how intricate origami can be. She explains "When someone mention's origami, often people's first thought is of animals and flowers but actually, it is being used in all sorts of weird and fascinating ways, from cancer treatments, to space satellites and architecture. It is an art that has evolved so much over time and yet there are still an infinite number of geometric shapes for people to explore."
McCallum's awe-inspiring skills are boundless, leading to the creation of a 2000 hand-folded flower set design for H&M and bespoke lighting for Ted Baker. Nicknamed the "Queen of Origami", Kyla's reputation as a Creative Director and Designer precede her.
Kyla founded Foldability in 2013 but has always "enjoyed balance and symmetry" and associates this with her unique form of dyslexia. Her origami journey begun in 2007 when she discovered the works of artists and architects like Buckminster Fuller, Magnus Wenninger and Ron Resch, whilst studying architecture in Cologne. The inspiration she drew from these designers ignited her passion for origami and geometry and paved the way for a career inspired by the craft.
Kyla continues "I'm inspired when I see someone following something they are passionate about and keeping positive motivation for what they are doing. It's hard to tell who genuinely enjoys what they are doing".
Her inspiration is also accredited to a 15-year-old picture library collected from books, magazines, websites, and photos. She explains these images form part of her creative process: "They are grouped into all sorts of categories, for example, 'red', 'blue', 'polkadots', 'eggs', 'games', 'pop-ups'. So, whenever I start a new project I browse through a few folders to get ideas and create a mood board. I find it very satisfying to layout a few images all colour co-ordinated on a page!"
The designer is also a frequent visitor of the London-based Museum of Childhood, which she calls her "favourite museum" because it exhibits "all sorts of wonderful and colourful strange objects" – all handmade of course.
Kyla's appetite for origami is demonstrated by the commitment and craftsmanship she lent to a 4-year project developing a "fold pendant" light design for the company, Northern. Her work not only involves the simple art of "making"; it is often supported by extensive research and prototyping.
The origami master continues: "Most of my work is quite labour intensive and involves a lot of craftsmanship. The quickest things I make are small hand-held origami pieces which take a few minutes each, but this type of thing is usually produced in batches of hundreds or thousands, so I might be folding for days or weeks to complete the whole project".
McCallum also lends a creative hand to other designers. She may be found conducting a 'making' demonstration at an event or aiming to "inspire a group of automotive interior designers" with her research.
Although Kyla's job currently doubles as a form of therapy, this wasn't always the case. Whilst Kyla was becoming attuned to her craft as a day job, the intensity of it left her unwell. She explains how 14-hour days full of repetitive folding left her with pain in her back and arms, as well as breathing problems caused by paint inhalation.
Kyla admits "This was a huge wake-up call and kick-started a massive change to how I manage my life and work…I realised I had treated my body like a machine and that if I wanted to continue with the business without damaging myself permanently, then I had to make some drastic changes…I've talked to a lot of creatives with similar problems…it seems to be a common issue but is something I hadn't given much thought as people never mentioned it to me before".
McCallum has since made a conscious effort to introduce healthy eating, regular gym sessions, and acupuncture to her lifestyle. The craftswoman has begun to heal and is happier and healthier since deciding that "work is really insignificant in the grand scheme of things".
Kyla's latest challenge has been "deciding which projects to say no to and to not feel guilty for turning work away". Her favourite projects are those lasting 2-3 weeks. She elaborates "I think that's the perfect length of time to work intensely without overworking myself, but still enjoying the project and not getting bored of what I'm doing".
Now that Kyla has made peace with her craft and established a work-life balance, it also doubles as a form of therapy. She explains "When I'm making I suppose I get into a bit of a meditative state, so it helps me empty my mind and filter out the noise. I think making helps me to relax and let go of stresses and worries, which I'm grateful for".
In the coming weeks, the "Queen of Origami" is set to begin work on a creative design for Shanghai's new Ted Baker store.
The budding origami star looks set for a bright future – the sky is the limit and no fold is too small!
You can check out more of Kyla's work here
Images Courtesy of Matt Pull, Chris Tonnesen and Ross Fraser McLean respectively.