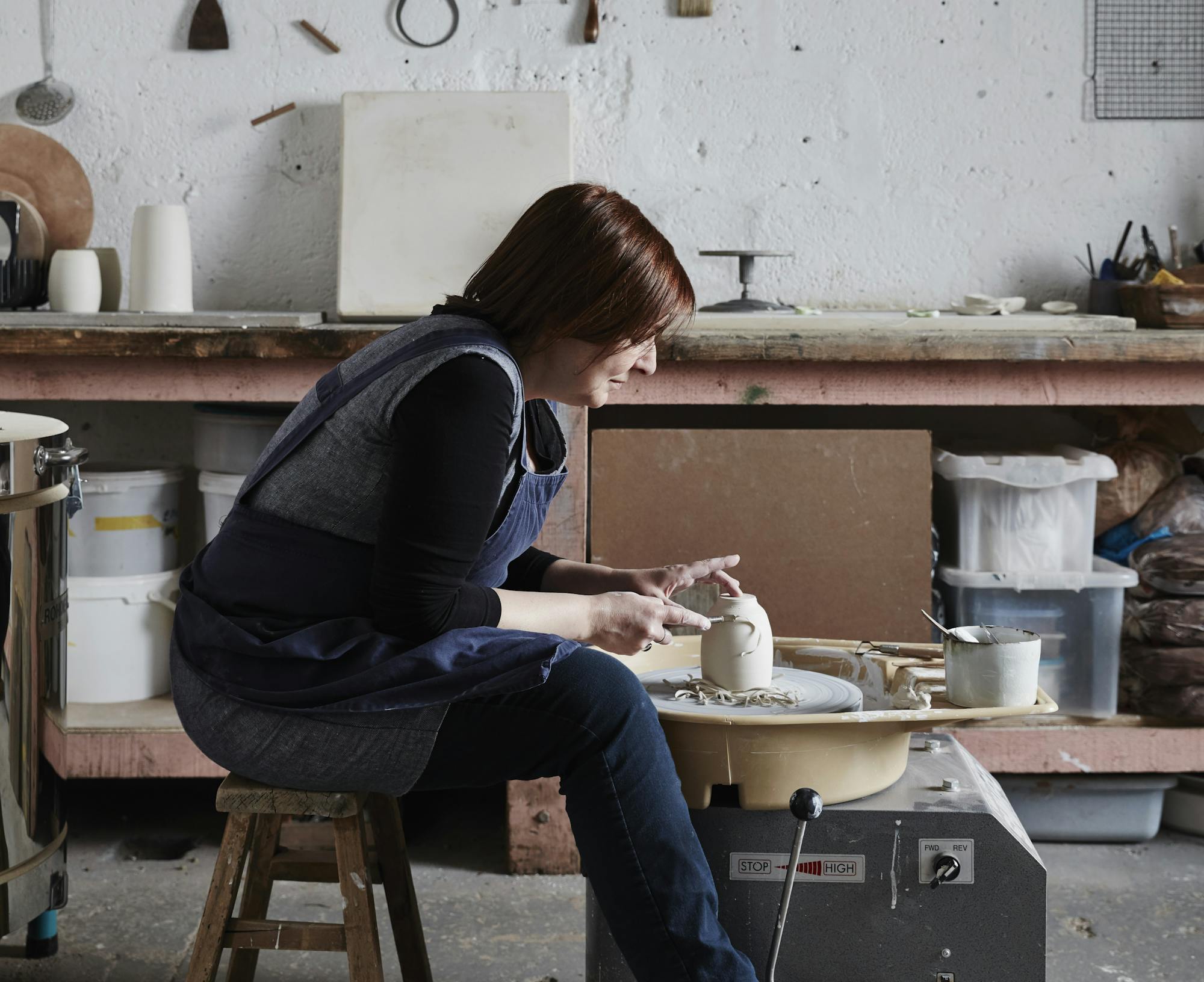 In Conversation with Elaine Bolt
We caught up with mixed-media ceramicist Elaine Bolt to discuss her creative philosophy, inspirations and running her own business.
Brighton-based Elaine Bolt's creative output is founded on the idea that "objects can tell stories". Combining ceramics with found objects – twigs, leaves, lichen, and the flotsam and jetsam of Dungeness (the Kentish shingle-beach and nature reserve) – she simulates specifically functional tools as pieces of art in their own right, drawing our attention to the space between functionality and aesthetics and inviting us to fill it with stories of our own making.
Favouring a muted colour palette of whites, greys and blacks, informed by the tones found in the landscape of the South Downs on her doorstep, her oeuvre has a dreamlike quality to it. From the vessels threaded with willow to the faux-natural ceramic-on-bark pieces in the "Horam Wood" series, Bolt has developed a knack for combining the earthy and the ethereal. Her series "Curious Utensils" introduces alien components into otherwise recognisable domestic tools, and is all the more surreal for it.
Talking to her, it becomes apparent that the making process has influenced her own artistic perspective as much as it has been informed by her creative philosophy – as she's paid more and more attention to discarded manmade or eye-catching natural objects, she's found herself more inclined to "really look at things, and get lost in the details and tiny worlds of moss and bark."
Since she first encountered clay at a weekend workshop aged eleven, she's been fascinated by it, and an MA in ceramics in 2010 opened her eyes to its potential in cross-medium projects. Since then her obsession has become her business – though of course this has come with its own challenges. "Running a business means that there are lots of other tasks to be done such as marketing, accounts, pricing and ordering. These essential parts of being self employed often take up more time than I want and take me away from the studio." But while this can be frustrating, the mentoring she does alongside her personal work is rewarding, and she finds talking to students, passing on experience and seeing how their work develops over time incredibly gratifying.
Running a business may distract from the creative process, but there's no doubt that the craft – and the creative perspective behind it – remains her priority. "When I work with found objects I often wonder at what their history might have been. Conversely when I make objects I may imagine a narrative for them, as if they had a life of their own."
It's not quite as simple an idea as it seems. By blurring the boundaries between the made and the found, by posing questions about their hidden histories and current functionality, Bolt's pieces prompt a personal response in each viewer. It's not just that "objects can tell stories", but also that – through engaging with them – we can each imagine individual, mutually valid narratives. "I think a bit more now about the relationship between objects and people; how others react to things, what makes them smile or lean in closer. The way some people will shy away from picking up something they see as fragile while others are drawn to it."
At the root of Bolt's craft is an interest in creating a dialogue between viewer and artistic piece – it's as much a study of the human psyche as it is of the potential of material components to take on new aesthetic appeal in relation to it. It's no surprise that no two pieces are quite alike, but each as unique as the individual it appeals to.
You can check out more of Elaine's work here.
Images Courtesy of  Alun Callender and Yeshen Venema, respectively.